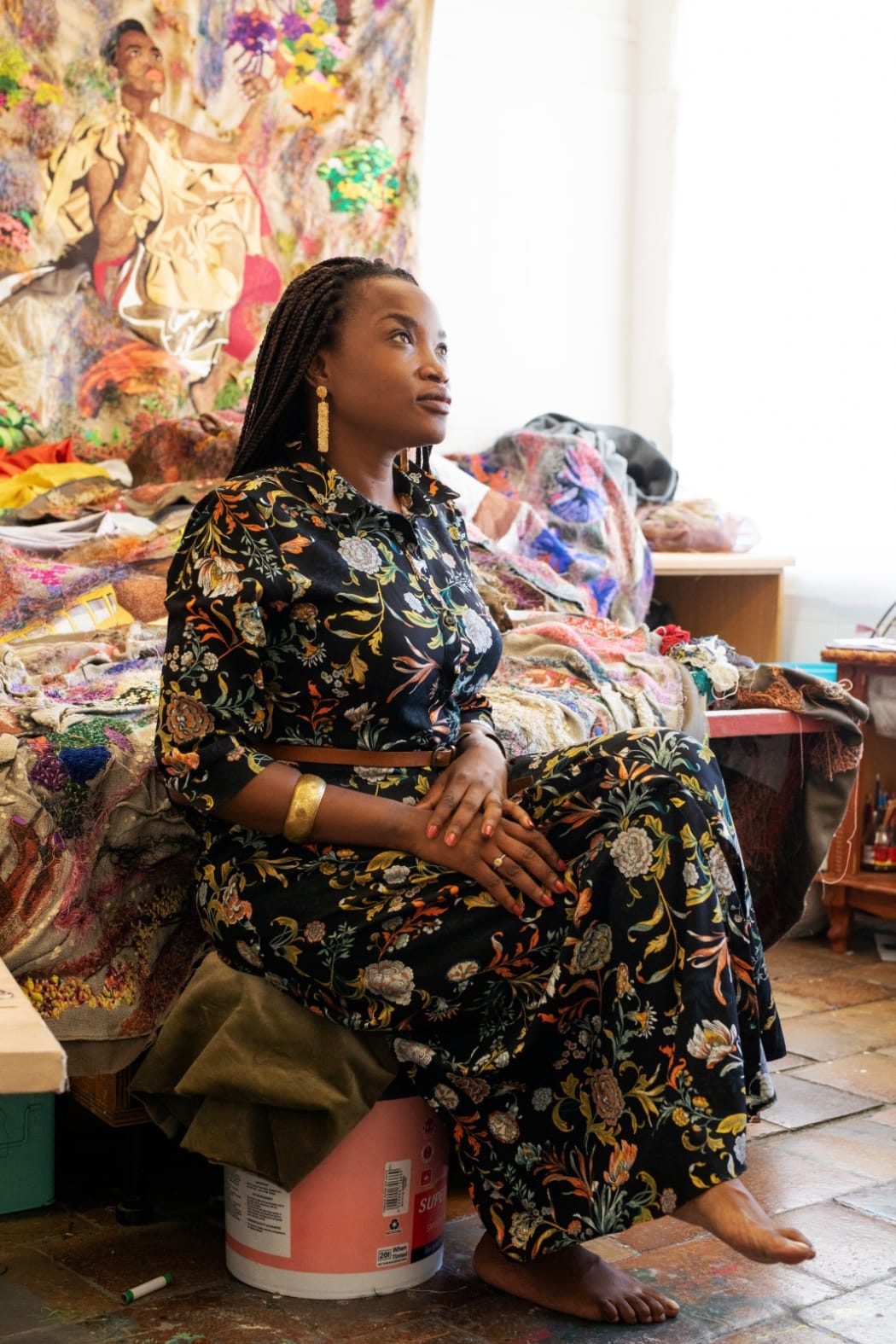 One of the many highlights currently on view at "Threads" is a beautiful new work by the South African artist Kimathi Mafafo (b. 1986). Through her poetic, female-centered works Mafafo questions historical stereotypes around gender inequality. The artist explores themes of womanhood in contemporary South Africa, commenting on the rigidity of cultural expectations.

In this ongoing series of lush embroidered scenes Mafafo celebrates the beauty of black women, encouraging them to realize their own strength and potential. Mafafo focuses on women withdrawing from society and finding peace in nature. A solitary figure is set in an enchanted garden, with embroidered threads that change from delicate flowers to loose, abstracted thickets of color grouped in organic shapes at the scene's border. For the artist such greenery symbolizes growth. In the tranquility of nature, away from the urban lifestyle, the woman seeks solace and finds strength to transform. From early on, the desire to reconnect with nature has been a strong inspiration in Kimathi's work. Her marvelous embroideries act as a mirror, reflecting the natural side of the viewers, thus inspiring them towards a true and better self.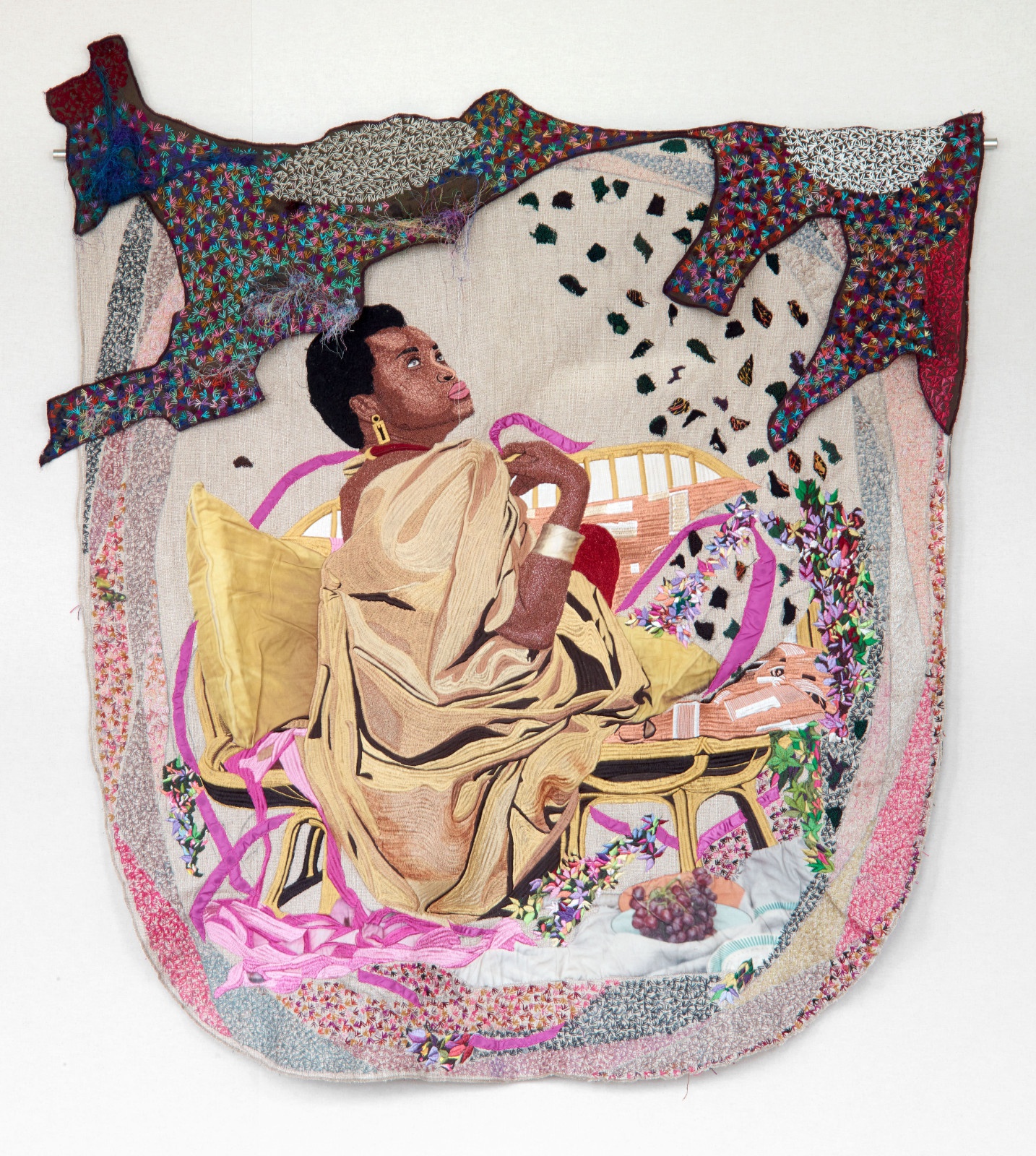 Kimathi Mafafo - "Buhle Bamina" (2021). Machine and hand stitched embroidery on fabric. 143 x 130 cm.
This work is called "Buthle Bamina"; buhle meaning 'beauty' and bamina 'in me' – Mafafo refers to "the beauty in my strength, the ability to identify my strengths and express myself as a female artist", dixit Mafafo. Characteristic for this series, she has given the woman a sensuous drapery that she holds on her shoulder with a delicate hand gesture. She thereby creates a tension between becoming, concealing and revealing, retreating and showing, all of which are an embodiment of her personal journey as an artist. For Mafafo, the drapery symbolizes "the layers or characters we have as woman, the fragile woman I portray for me is like silk fabric. At times I will use white fabrics in my work, they symbolize the layers we have as women or as humans in general; layers that need to be peeled off before we truly get to know a person". The choices of fabrics and colors are thus meticulously chosen and here express both fragility (silk) and strength (royal gold). The upward gaze of the central figure perfectly illustrates her reflective mood in a pure moment of self-realization.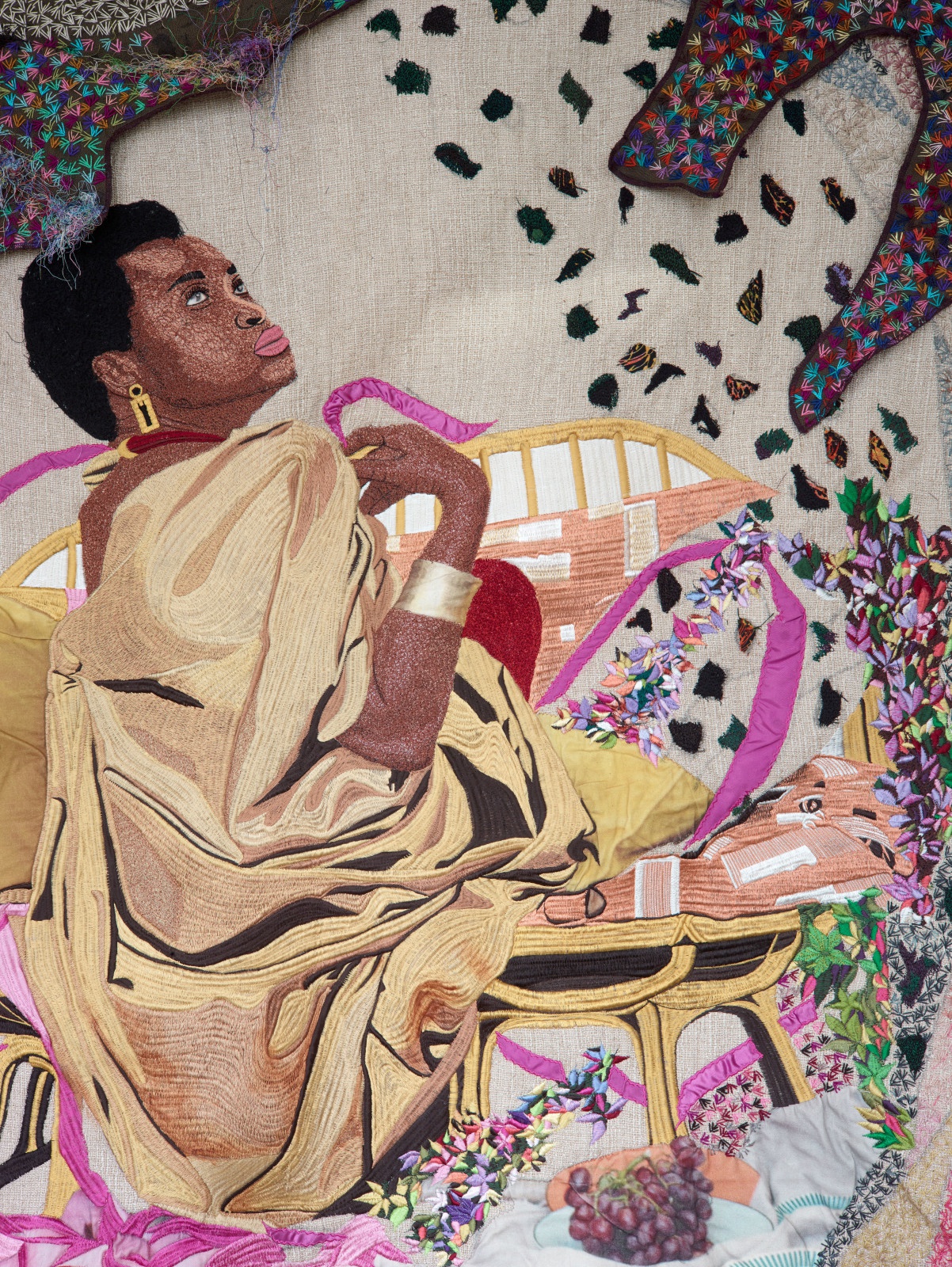 Detail of "Buhle Bamina".
Mafafo's work is a response to the many women who feel powerless in their relationships. She tells these stories to empower those women who are not strong enough yet in a profound wish to stimulate their emancipation and give them the strength to shape their lives according to their own will, free from the weight of cultural expectations. Her imagery is partly guided by her desire to celebrate the black female form, inspiring women to embrace their own worth and beauty. In essence, this series of embroideries tells the stories of women trapped under the weight of tradition and not fully realising their worth.

With this goal the artist has organized a group of Capetonian woman into a traditional embroidery studio. The women embroider art pieces derived from Kimathi's inspiration. In her words, "the embroidery process is therapeutic, offering a platform to tackle gender issues and share advice among each other". Mafafo likens the women in her narratives to flowers slowly blossoming against all odds, subtly criticising traditional gender roles while at the same time encouraging women to realize their own strength. Like her artworks, the studio she founded offers a retreat, a place of empowerment and self-realization. Mafafo's embroideries thus stimulate women to emerge, transform, flourish and thrive.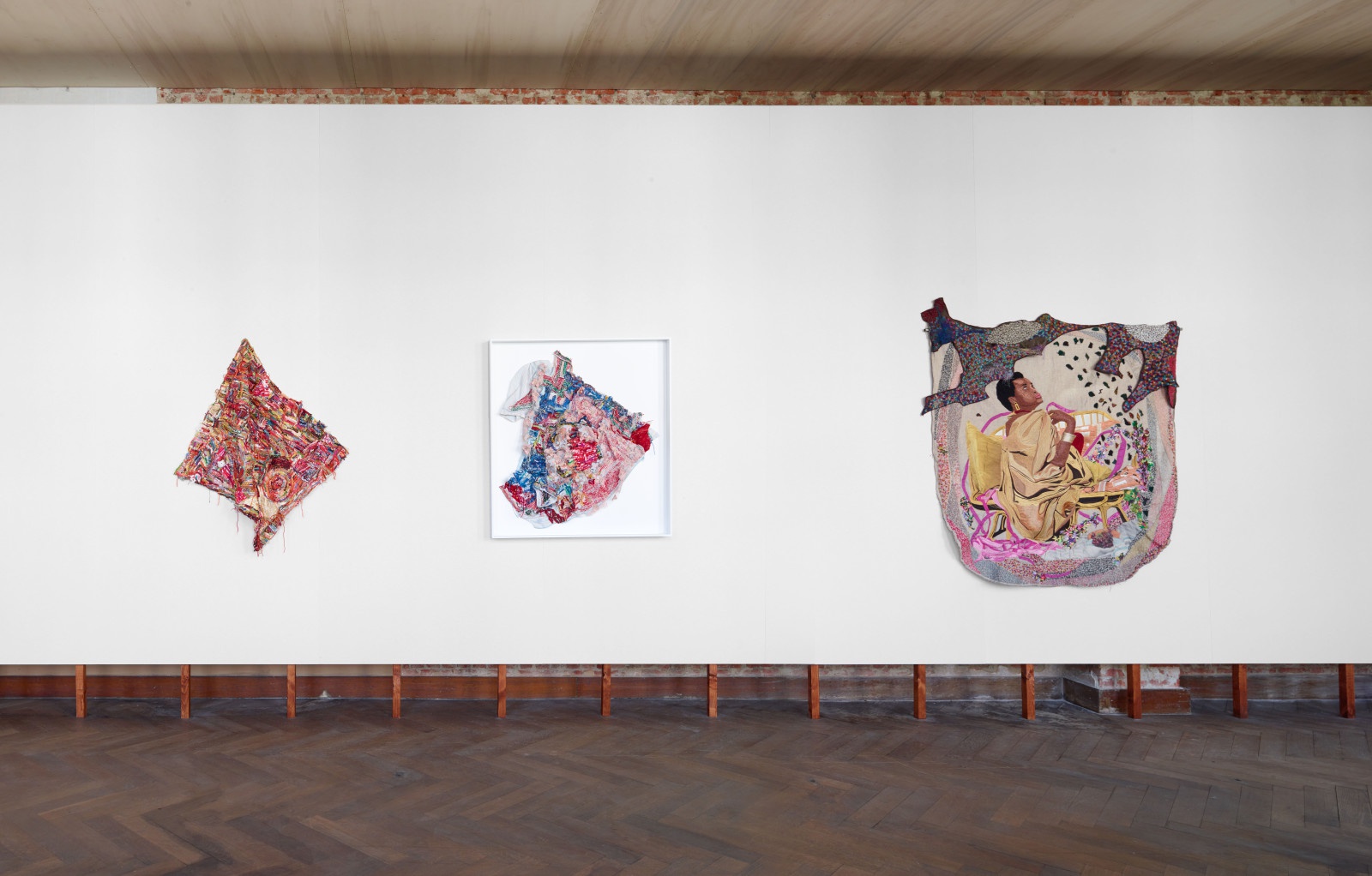 "Buhle Bamina" on view at "Threads" together with two works by Georgina Maxim.
Mafafo obtained a National Diploma in Fine Arts from the College of Cape Town in 2007 and a National Diploma in Film and Video from the Cape Peninsula University of Technology in 2016. She has participated in several solo shows and featured in many group exhibitions in South Africa and London as well as in France and the USA. Last month she had her first solo exhibition at the London gallery of Kristin Hjellegjerde, titled "Gestures from the Awakened Mind". Mafafo is represented by the South African gallery Ebony/Curated, who recently also offered several of her works at the London art fair 1:54.