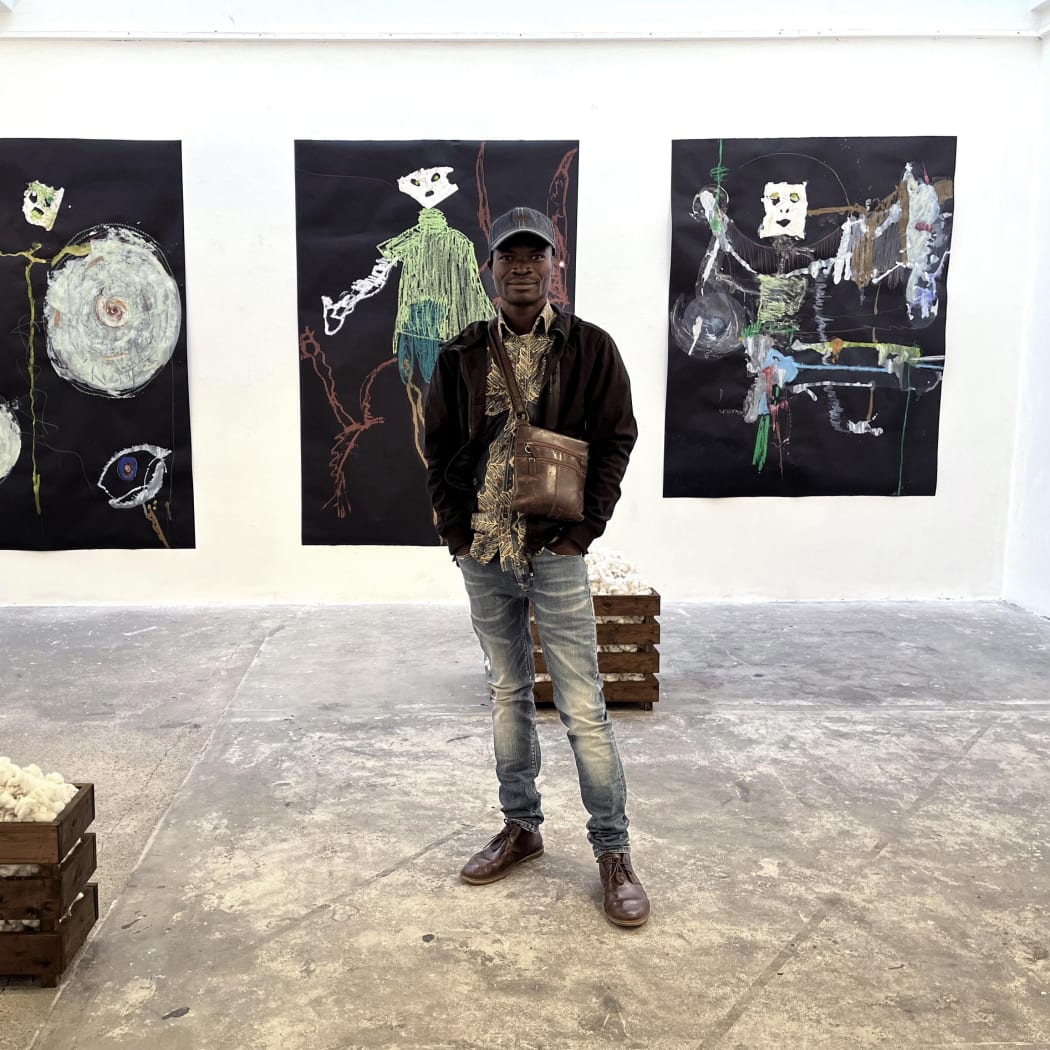 UNSETTLED presents two works by Thierry Oussou (b. 1988, Benin) showcasing his distinctively gestural style with drips, splatters, and calligraphic marks. Distorted figures, faces, objects and symbols float freely against a dark paper background in an unsettling universe. Oussou's unique choice for black paper as a medium was inspired by the small slates used by schoolchildren. In 2014 he started to experiment with larger sheets, which are now his standard practice. For him, paper is more than a surface, it is a conceptual medium. The material qualities of the unmounted paper are crucial for his works and Oussou favours it over canvas.
Oussou's grand scale black drawings possess an absorbing quality, forcing the viewer to observe them up close. Another recurring visual element is the presence of white masks glued on the black surface. He explains, "Everyone can hide behind a mask. I don't know your past or present, but perhaps there is something in my pictures that you recognise in yourself. Each mask is a person, an individual composed of several layers. Maybe you can identify with some part of my drawings." The eyes, nostrils and open mouth are burnt into the face with coals, referring burn marks on one's skin – "suffering feels like coals that burn on your skin", the artist states. Oussou sculpts the faces with fire, embers recalling human struggle, in most unsettling expressions.
Group of Masks. Image courtesy of No Man's Art Gallery (2016).
The large sheets of black paper contrast with the white and coloured drawings revolving around a single human figure. This individual seems to float in a universe filled with signs, sketches, and doodles. Each separate element bears a meaning, and the use of vivid colours sharpens the contrasts. Through his distinctively gestural and energetic practice, the artist creates captivating works in an audacious neo-expressionistic style. A constant traveler between places and across continents, Oussou's work captures the unsettled state of being both insider and outsider, resident and visitor. As a self-thought artist, he speaks a unique artistic language with a strong visual, aural, and psychic impact.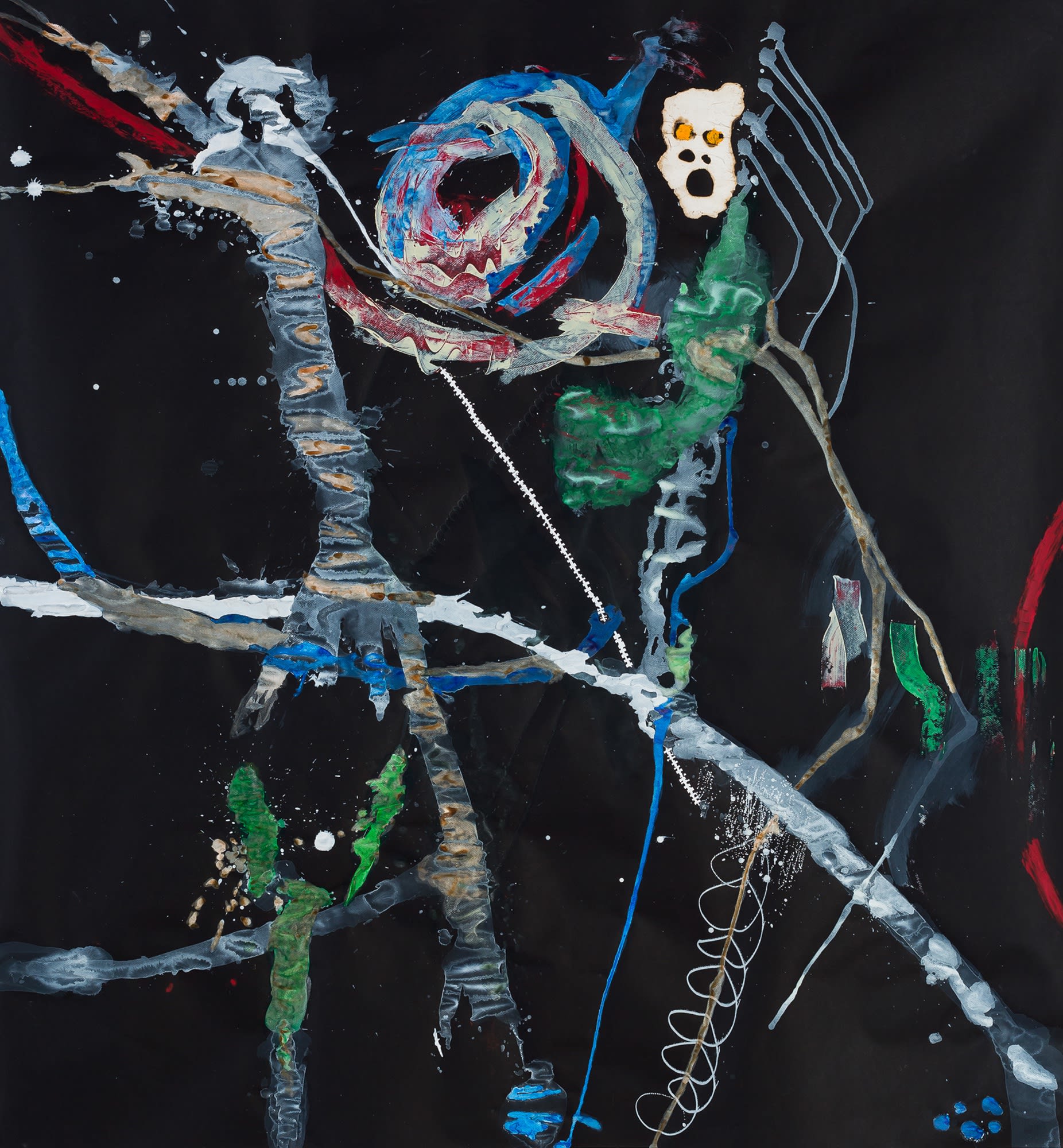 Thierry Oussou - Untitled (2020) - 151 x 142 cm. Image courtesy of Lumen Travo Gallery. Ph: Peter Tijhuis.
Thierry Oussou was born in 1988 in Allada, Benin, and works with drawing, painting, video, installation, and performance. In 2011, he founded Atelier Yè in Benin as an informal art school where artists could assemble and exchange ideas. His practice caught the attention of artists Meschac Gaba and Barthélémy Toguo, who he subsequently assisted. He had a residency at the Rijksakademie, Amsterdam in 2015-2016 and exhibited at the Dakar Biennale in 2014, and at the 10th Berlin Biennial in 2018. Oussou had solo exhibitions at Tiwani Contemporary, London (2018), Stevenson, Johannesburg (2018) and Lumen Travo Gallery, Amsterdam (2019, 2021). The artist was recently featured in the exhibition Benin Art: Yesterday and Today at the Palais de la Marina in Cotonou (February-May 2022).