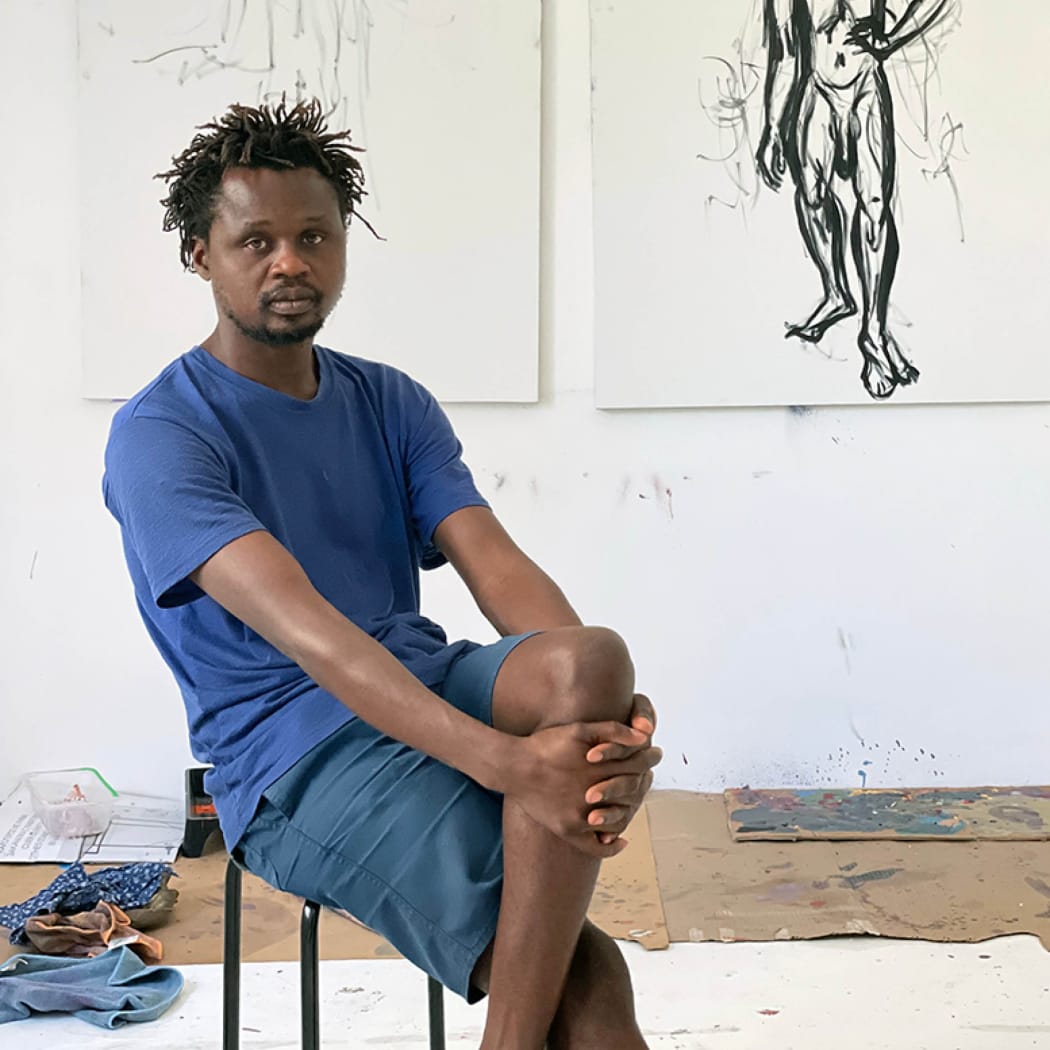 Duende Art Projects is excited to announce it will be showing works by Admire Kamudzengerere at its forthcoming exhibition UNSETTLED opening on May 26th.

Admire Kamudzengerere (b. 1981, Zimbabwe) work explores identity, politics, and society, often informed by the structural and social issues that have marked Zimbabwe's last decades. Kamudzengerere has gone on to create a powerful and broad range of works that consists of painting, drawing, performance, installation, video, and printmaking. His art, intense and indefinable, addresses the political violence and upheaval in his home country while tying into more global and universal themes like father-son relationships, displacement, and the position of an African artist within the global art world.
Installation at Zimbabwe Pavilion of the 57th Venice Biennale, 2017.
Kamudzengerere has exhibited his work across the globe and became the second Zimbabwean artist ever to be awarded a residency at Amsterdam's Rijksakademie. In 2017, at the 57th Venice Biennale, his portraits occupied an entire room of the Zimbabwe Pavilion. In the following years, he went on to participate in the 11th Bamako Biennial, the 13th Dakar Biennial, and the 13th Cairo Biennial. He has been included in exhibitions at the Zeitz MoCAA in Cape Town, Kunsthaus Hamburg, the 5th Moscow Biennial, and the new Humboldt Forum in Berlin. His work is part of the collections of the Art Institute of Chicago, the Block Museum at Northwestern University, and the National Gallery of Zimbabwe. He is represented by Catinca Tabacaru Gallery in Bucharest.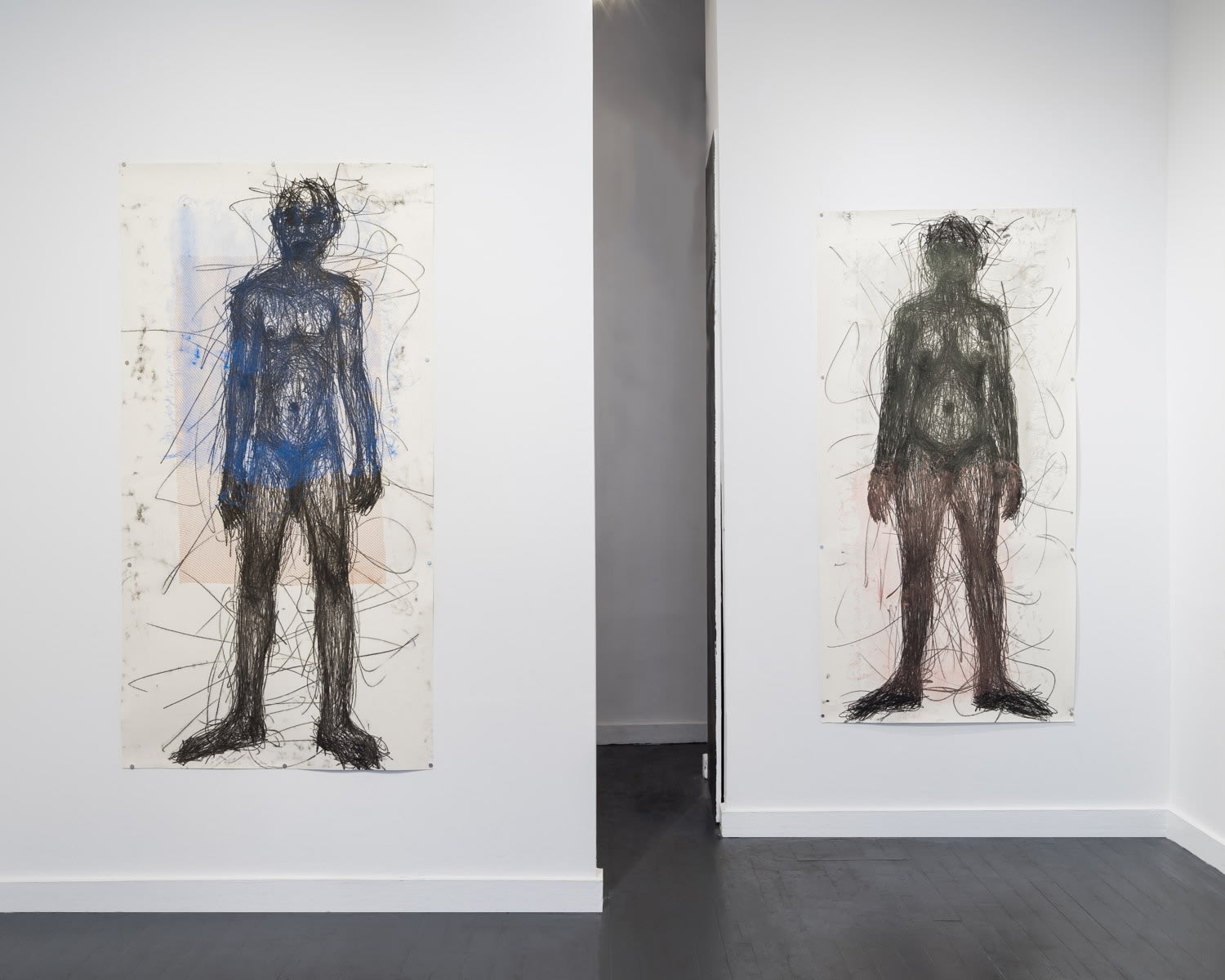 Tawanda (We have become many) & Tanaka (We have become beautiful) (2017)
Silkscreen on monotype, 174 × 90 cm, Image courtesy of Catinca Tabacaru Gallery.
Our forthcoming exhibition UNSETTLED will include several monotype self-portraits from a series the artist started after his father's death in 2012. At the time, Admire was studying in Amsterdam and these works functioned as a sort of mourning, coping with the loss from a distance. He would stare at himself in the mirror for hours, searching for traces of his father's face. When the artist would recognise an eye, an ear, a smile, he would feverishly attempt to capture the likeness, drawing onto the back of a piece of paper laid on top of an ink stone. They were instinctual, emotional marks, putting down on paper a visual that was rapidly exiting his memory.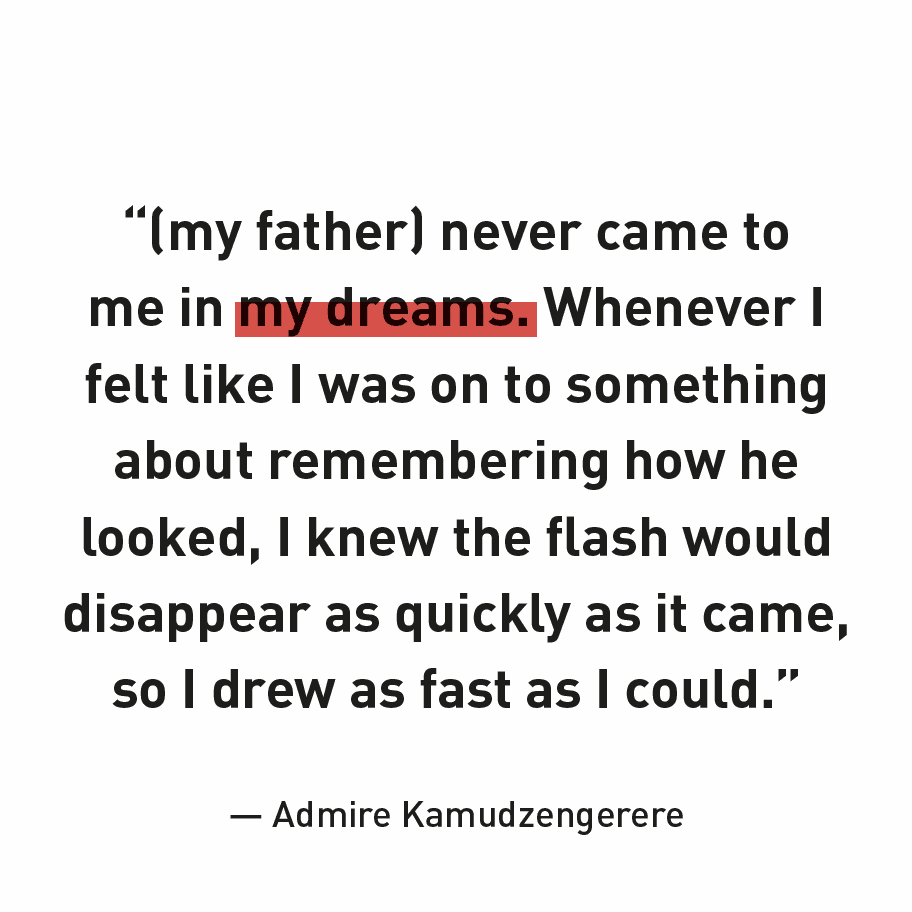 His monotype self-portraits address this personal struggle, but are also pieces of a universal puzzle invoking a unifying human thread—the fil rouge of roots and ancestry. With time, Kamudzengerere's search for his father evolved into a new printing language, mixing traditional printing techniques with experimental approaches to silk screening and mark making. Process became the central force behind these works as Kamudzengerere added multiple layers to the prints.
Admire Kamudzengerere - Fading (2019)
Monotype, silkscreen and litho on paper. 99 x 70 cm.
In 2019, Kamudzengerere opened his second solo exhibition in New York City by revealing the next evolution of his printing technique, having added lithography into the mix. These works had taken the medium into a direction not yet reached by another printmaker. Nets and wires were screen printed on top of the self-portraits. Through this practice, Admire challenged preconceptions of identity by responding to ideas of citizenship within the expansive geopolitical landscape. Inspired by his temporary relocation from Zimbabwe to Amsterdam, the silk-screened netting mirrored the boundaries society imposes on us. Even in the post-colonial landscape, effective administrative regulations continue to produce invisible borders. A mesh structure covers the portrait, forming a mask which constitutes the self-imposed identity that enables participation in the global artistic community. Kamudzengerere's self-portraits capture his unsettled state masterfully and glance at us from behind the mask.