"Threads" was proud to present two beautiful new works by Saïdou Dicko (Burkina Faso, 1979), especially created for the exhibition. Dicko grew up as a shepherd in rural Burkina Faso and started drawing the outlines of the fauna and flora that surrounded him from the age of 5. His childhood imaginary was deeply rooted in the Fulani traditions of a life of nomadic shepherding. The self-taught visual artist, who currently lives and works in Paris, remains a nomad, travelling the world in search of inspiration with frequent returns to his native Burkina Faso. Dicko gained much applause for his series "The Shadowed Peoples", where painted over photographs transformed people into silhouettes, reminiscent of Auguste Edouart's 19th-century silhouette portraits and contemporary works by Banksy. Contrary to Edouart who portrayed high society during the industrial revolution, Dicko turned the spotlight on people living their lives 'in the shadows', too often misrepresented in one-dimensional narratives of poverty and hardship. Dicko highlights the human rather than the individual, and writes multidimensional tales of possibilities, filled with hope and optimism.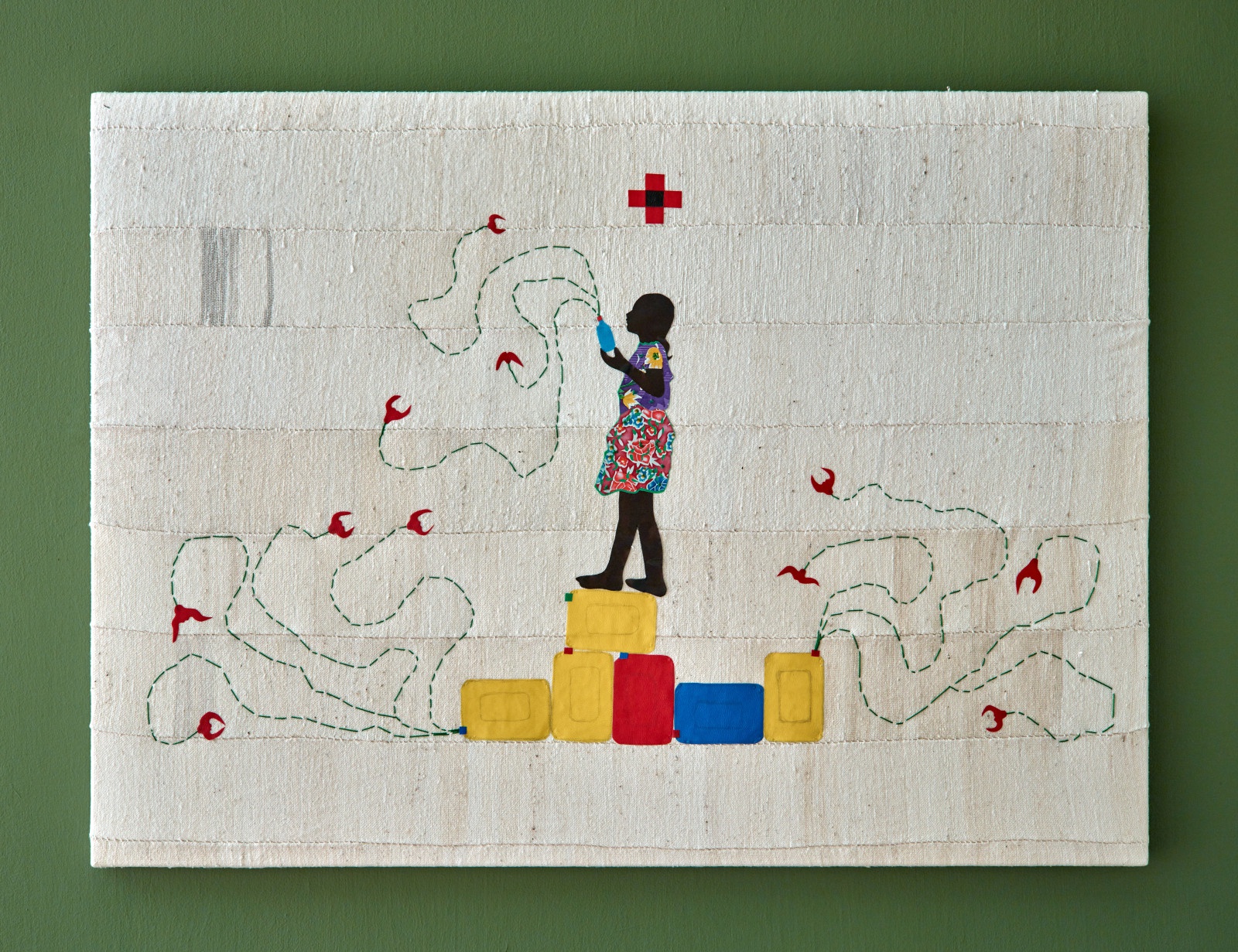 Saïdou Dicko - "Enta Omri" (2021) - 73 x 100 cm.
Early 2021, Saïdou Dicko transferred his 'shadowed people' to a new medium, isolating them on traditional organic cotton made in Burkina Faso. The characters are abstracted from their surroundings and placed in a new context of hope where transformation and movement are key words. The works are powerful in their simplicity and joy. Centrally positioned, the child's black silhouette contrasts with the light cotton, in correspondence with Dicko's ongoing fascination with the interplay of light and dark. In "Enta Omri", a girl standing on a podium of colourful plastic water cans holds a water bottle from which green branches with red flowers spring. Above her head we find the Fulani-cross as a marker of identity.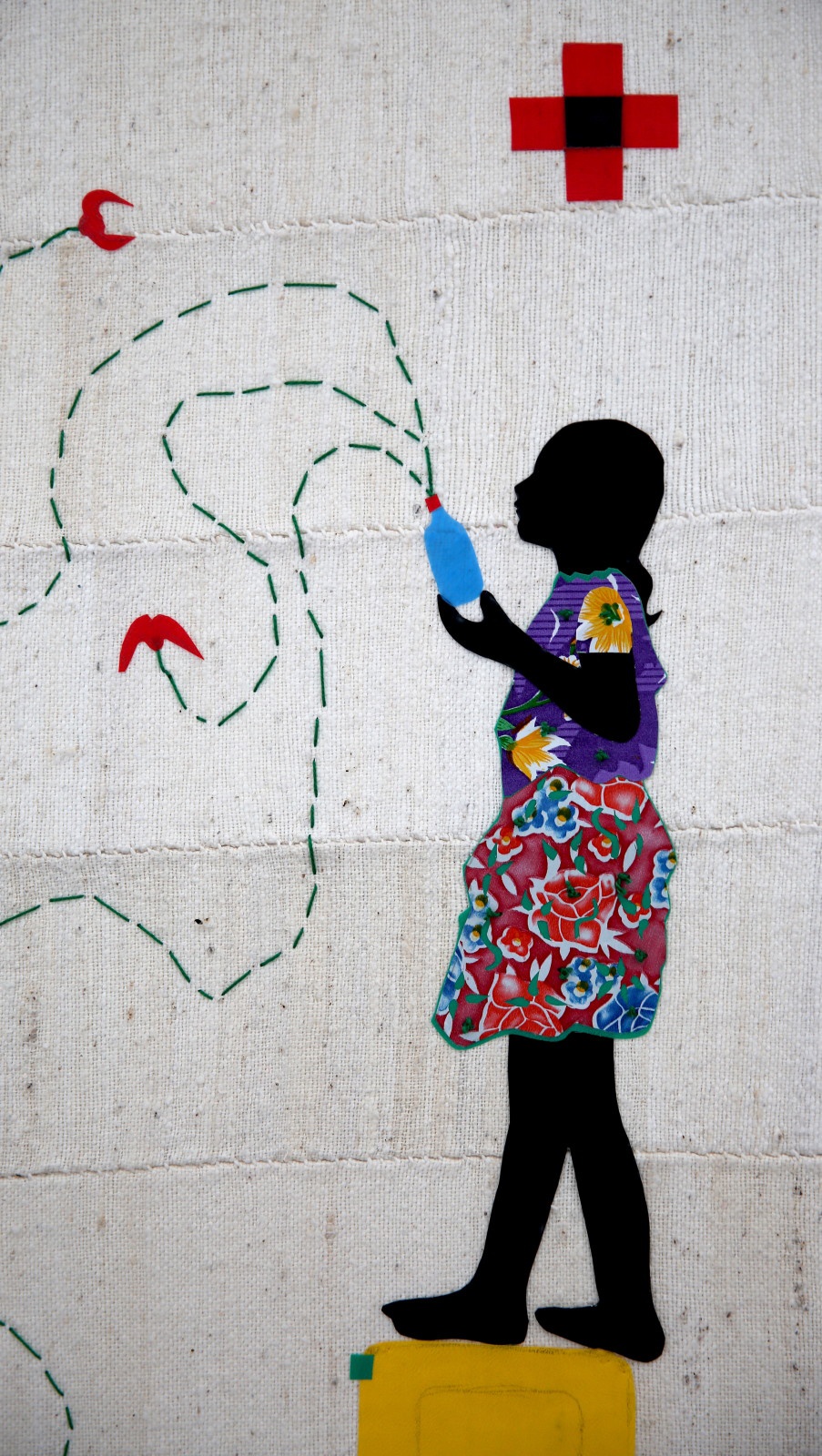 Detail of "Enta Omri" (2021).
In Dicko's work everyday objects surpass their functionality and become loaded with symbolism. Plastic feeds a reborn nature and becomes a source of life. It evokes renewal. The 'shadows' that spring under Dicko's hands take over all temporality. Yesterday, today and tomorrow belong to them. They are the change. Africa being the continent of the future, the shadowy children turn into light and represent a promise of change and progress.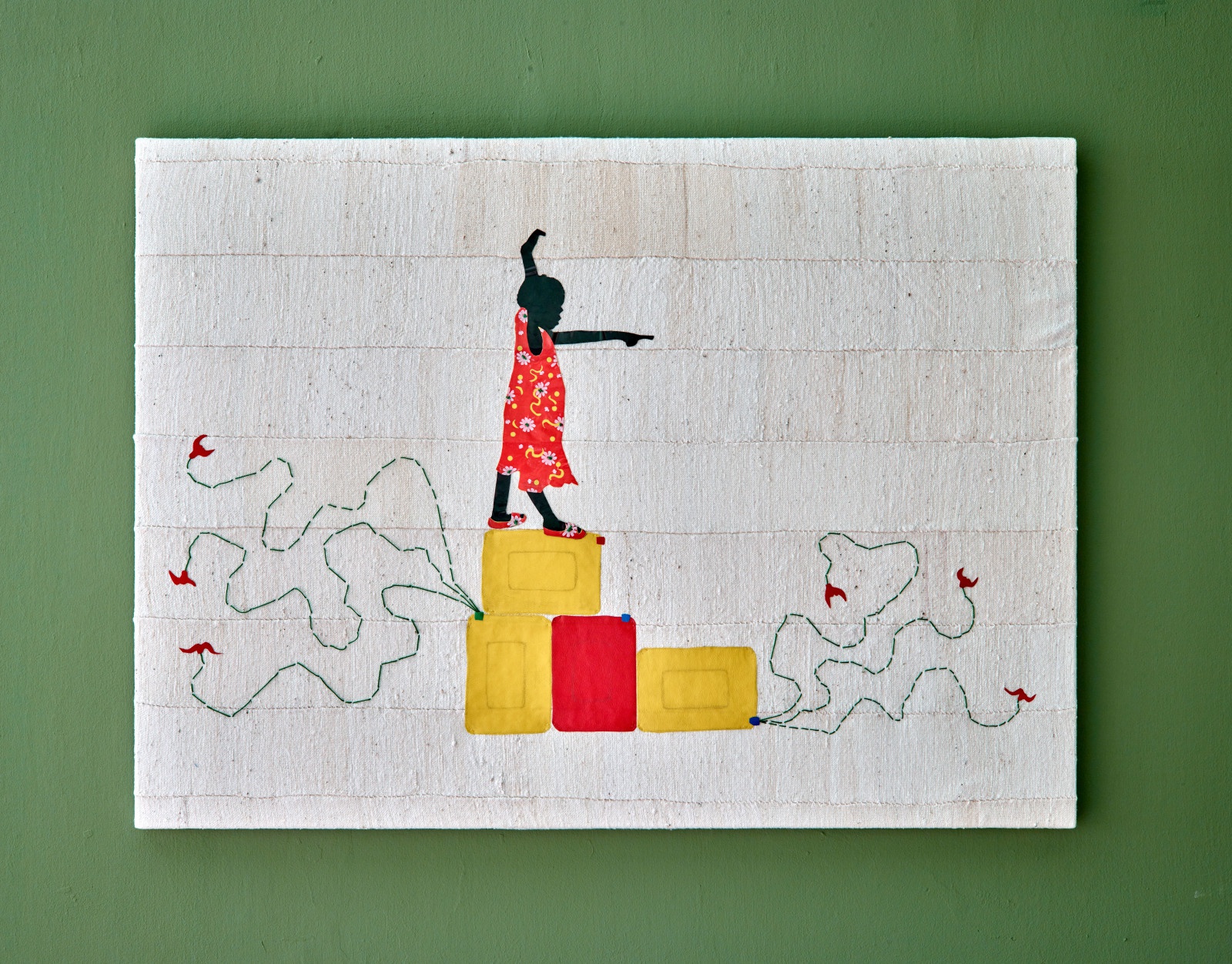 Saïdou Dicko - "This future will be beter" (2021) - 73 x 100 cm.
Standing on colourful plastic jerrycans from which green branches with red flowers spring, a girl points forward in "This future will be better" in an active, hopeful gesture. Her raised right arm can be interpreted as a call for action, leading the way into a better future.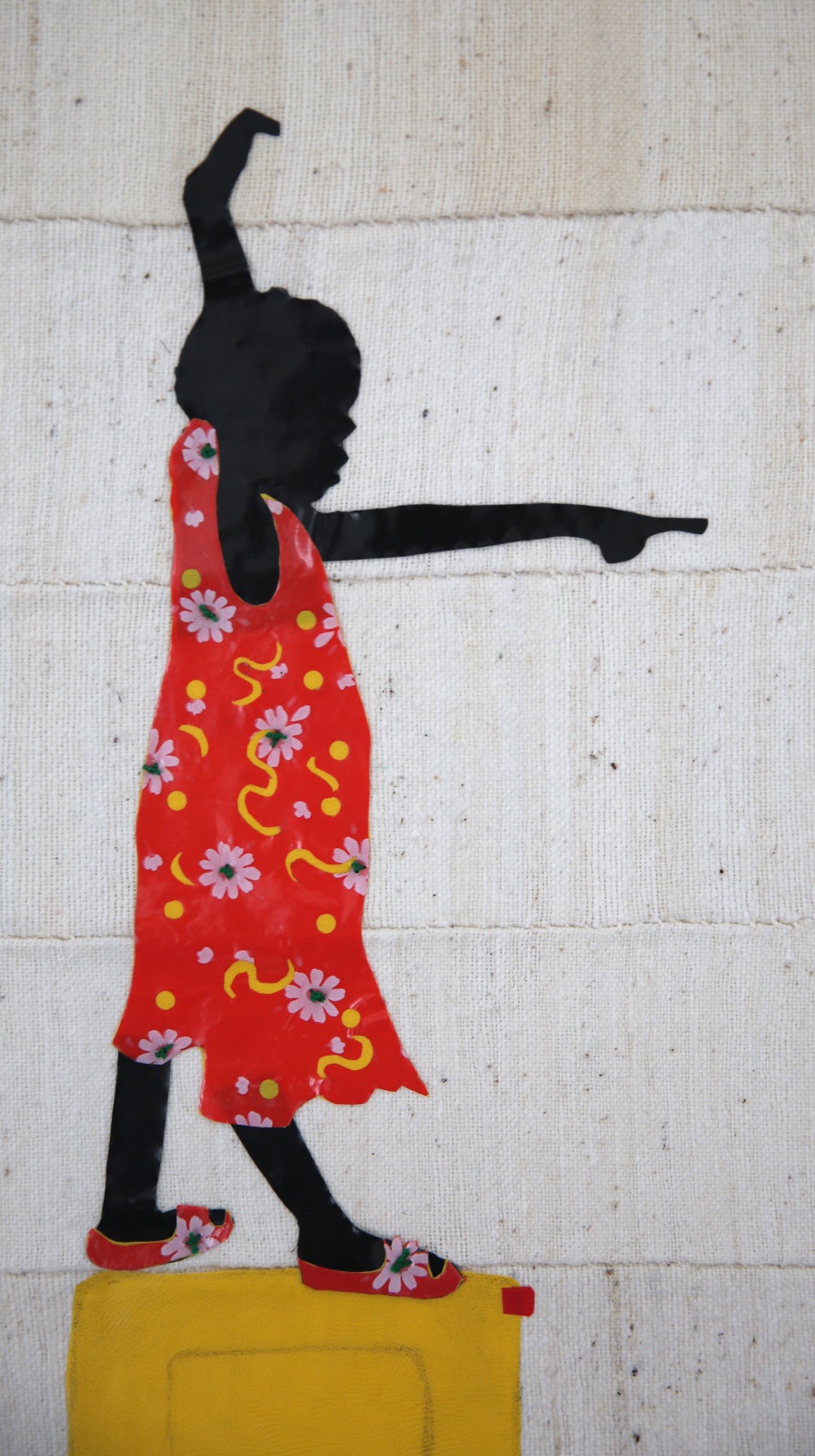 Detail of "This future will be better" (2021).
Saïdou Dicko has exhibited at many international events (biennials, international fairs, exhibitions) and his works received several prizes : the Prix Blachère in 2006 in Dakar Biennale, the Prix de la francophonie at the African Photography expo of Bamako in 2007, the Fondation Thamgidi prize in 2008 in Dakar and the Off prize of the European Union that same year. Since 2013, he is also active as a curator (3th International Biennial of Casablanca) and scenographer with Arkane Africa. Saïdou Dicko is represented by Galerie Afikaris in Paris, who exhibited him together with Hyacinthe Ouattara in March 2021 during the acclaimed exhibition "La poésie du lien".