"Threads" was proud to present two magnificent works by Bamako-based artist Abdoulaye Konaté (1953), one of the most influential voices of contemporary African art. The artist studied painting at the Institut National des Arts in Bamako, and at the Instituto Superior des Arte in Havana, Cuba where he was strongly influenced by his teacher Wilfred Lam. Upon returning to Mali in 1985, Konaté made the transition from working in paint to textiles, coining his own unique visual language, combining patches and swaths of dyed cloth just as a painter uses oils, to create large, radiantly coloured textile works.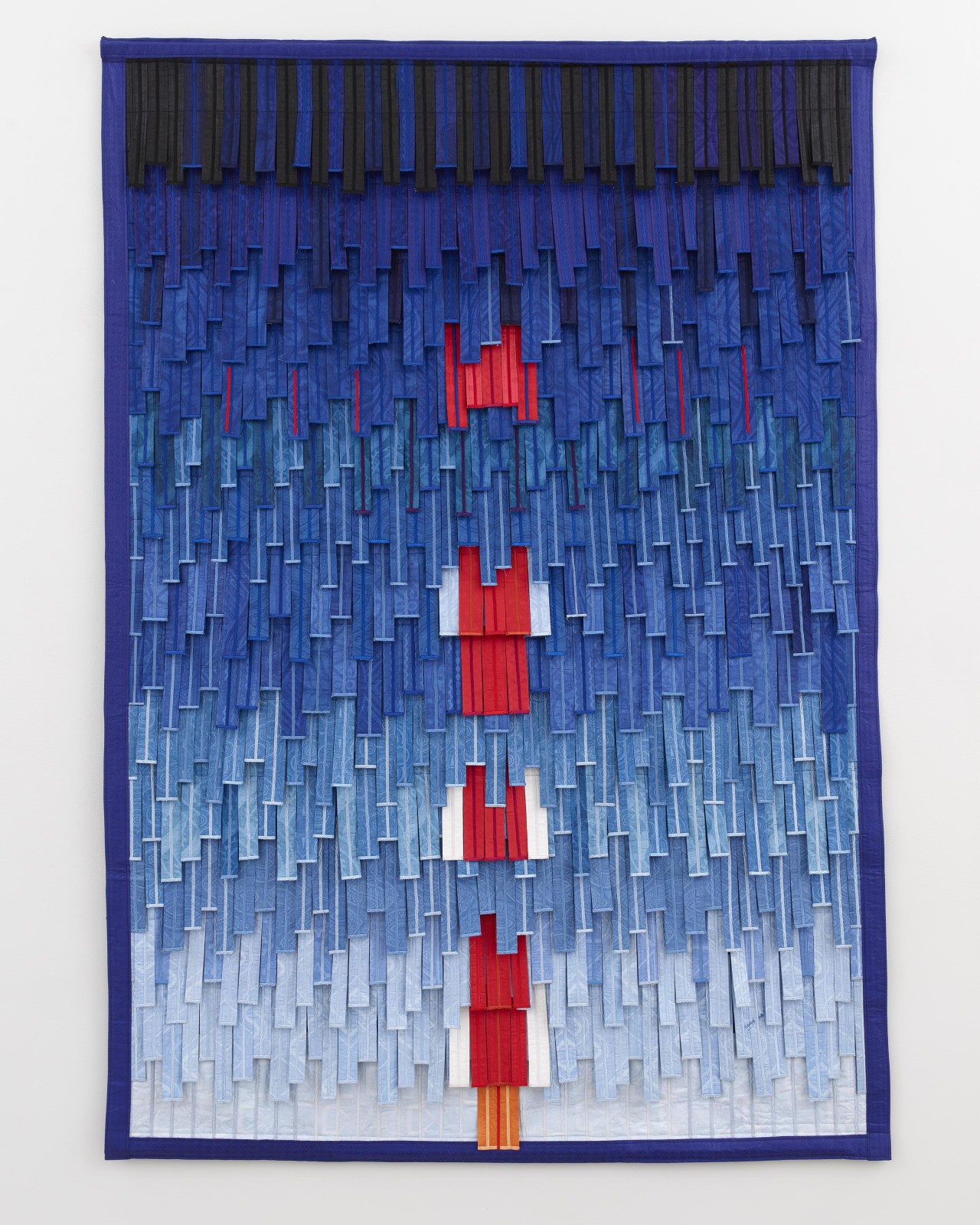 Abdoulaye Konaté - 'Bleu, rouge, orange et blanc' (2019). 274 x 190 cm.
Konaté's large-scale compositions are created using local Malian fabrics. Traditionally woven and dyed by women, these colourful cloths play an important role in the identity politics of the region and the diaspora. Konaté's works breathe fresh life into West Africa's rich and dynamic textile traditions. In this intensive exploration of the spectrum of blue tones, he pays tribute to the indigo dye that has been so central to West African aesthetics. Konaté dives into contemporary dialogue, with a firm grip on his local culture thereby honouring the traditional usage of these fabrics as a ceremonial and narrative tool.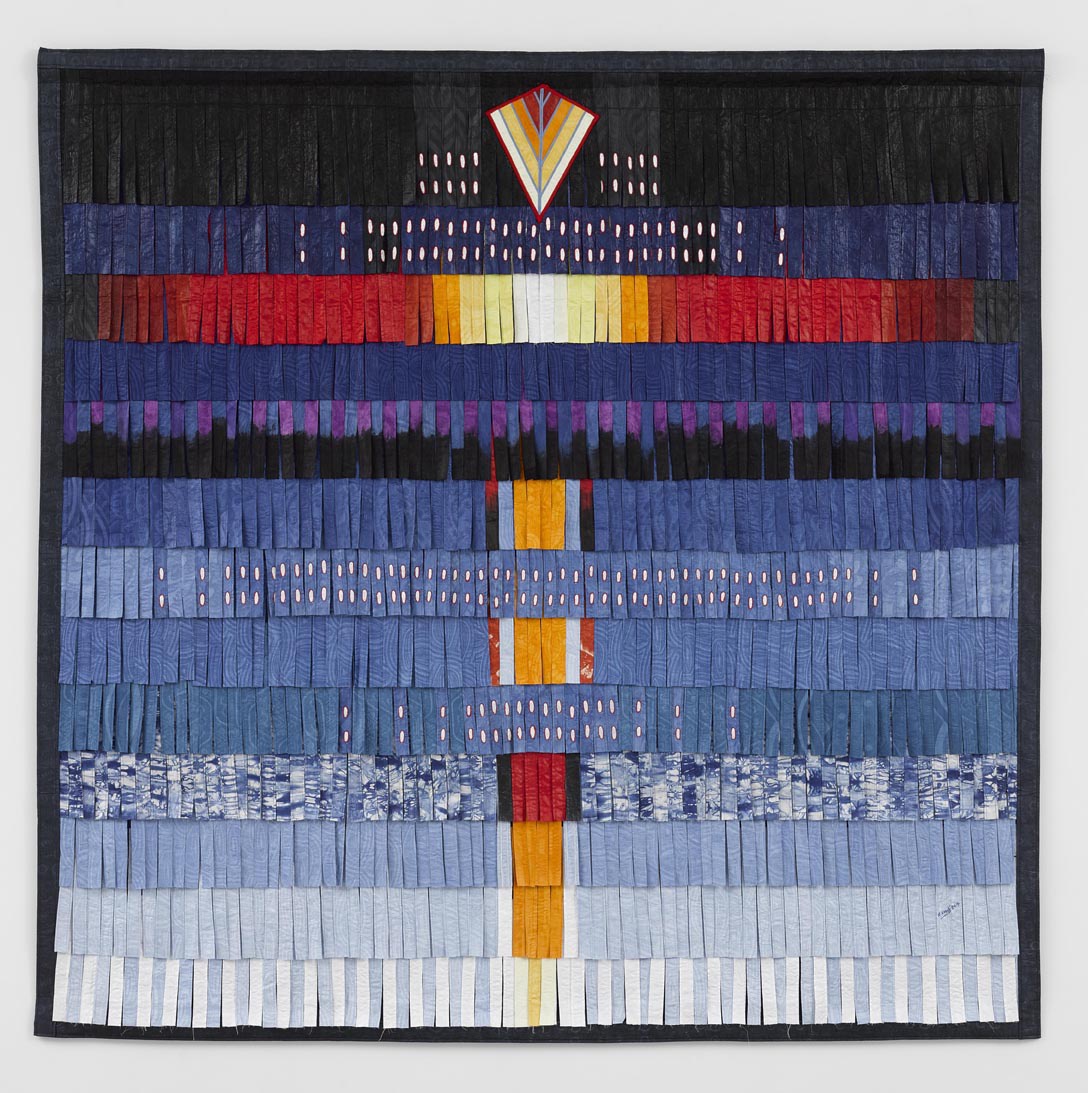 Abdoulaye Konaté - 'Composition Bleue Orange Aly 1' (2017). 218 x 228 cm.
"For me, working with colours is like a world of its own where you perceive a variety of colours to the point where it becomes almost like alchemy. The range of blues gives me all the depth that I need. I worked with a range of blues, the same ways as if I was working on a painting. I do compose my own colours. It has to be exactly the right colour for me. If not, I change it until its fits. I researched all the possibilities, all the declinations of the colour range. When I started looking into the range of blues, I analysed what people wear in Mali, starting from the blue garments of the Tuareg in the North of Mail to the white attire that the Arabs in Mali wear. In between there is a blue that reminds you of the colour of water that you can find with the fishermen who work on the Niger River. So for me, it is not only an empirical analysis, but also an analysis of the realities, of what people really do wear. It gives me another kind of richness that allows me to share that colour choice with different people on an educational level, on an aesthetic level, so that ethnic groups also accept other types, other ranges of colour."
- Abdoulaye Konaté, 2015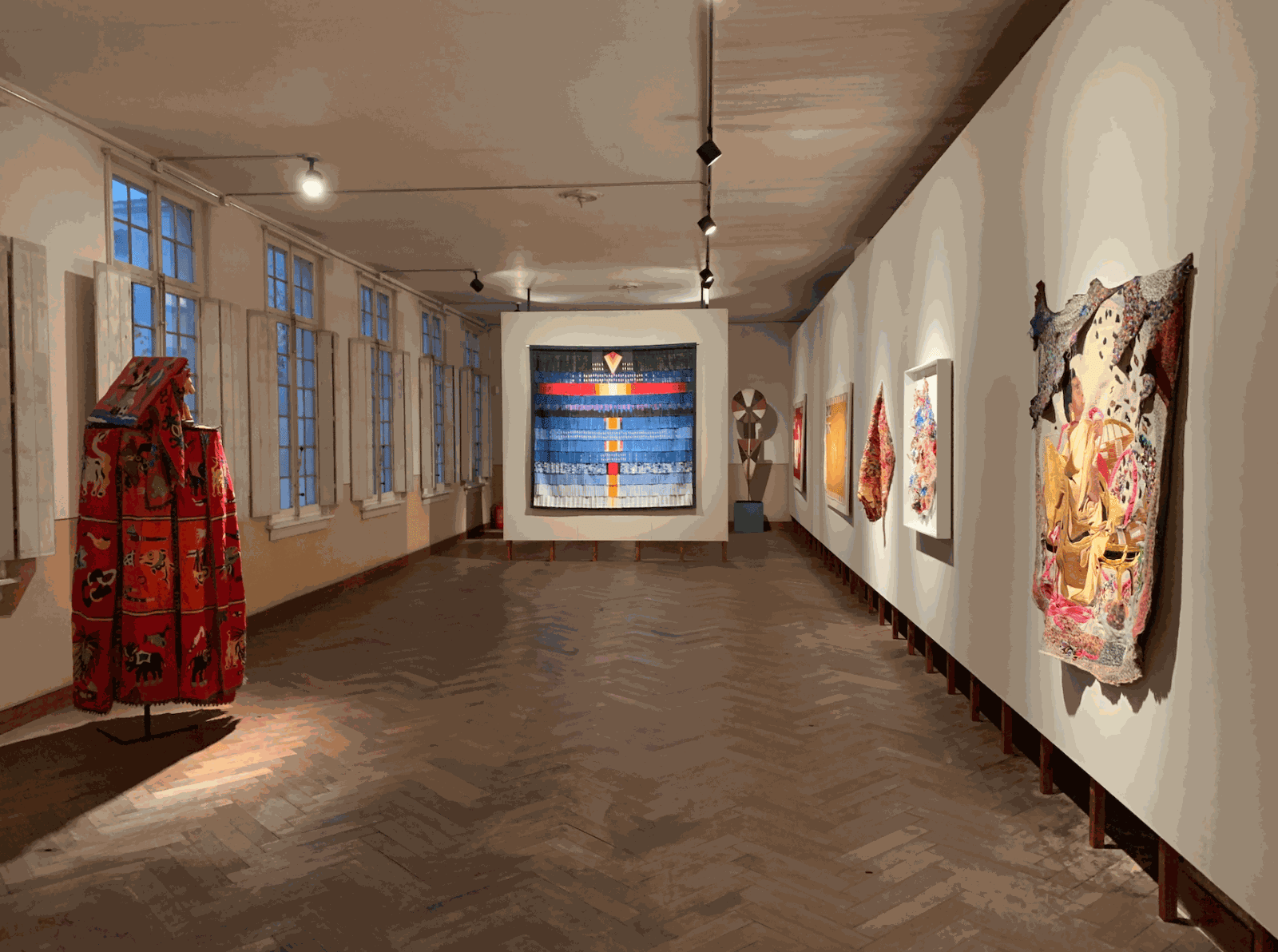 Part abstract, part figurative, Konaté's compositions bring us in a universe filled with layers of symbolism. Conversations take place between the textiles and the viewer, based on the inherent meanings of the fabrics. Even if the political activism of earlier works is cast aside, Konaté's language is unchanged, always strong, substantial, forged to speak of mankind through a pure medium such as colour. Konaté's textile works have a special painterly quality and alternate between the surface-oriented and the rendering of spatial depth. Konaté's majestic works are powerful and breathtaking, and created lots of Duende moments during "Threads".