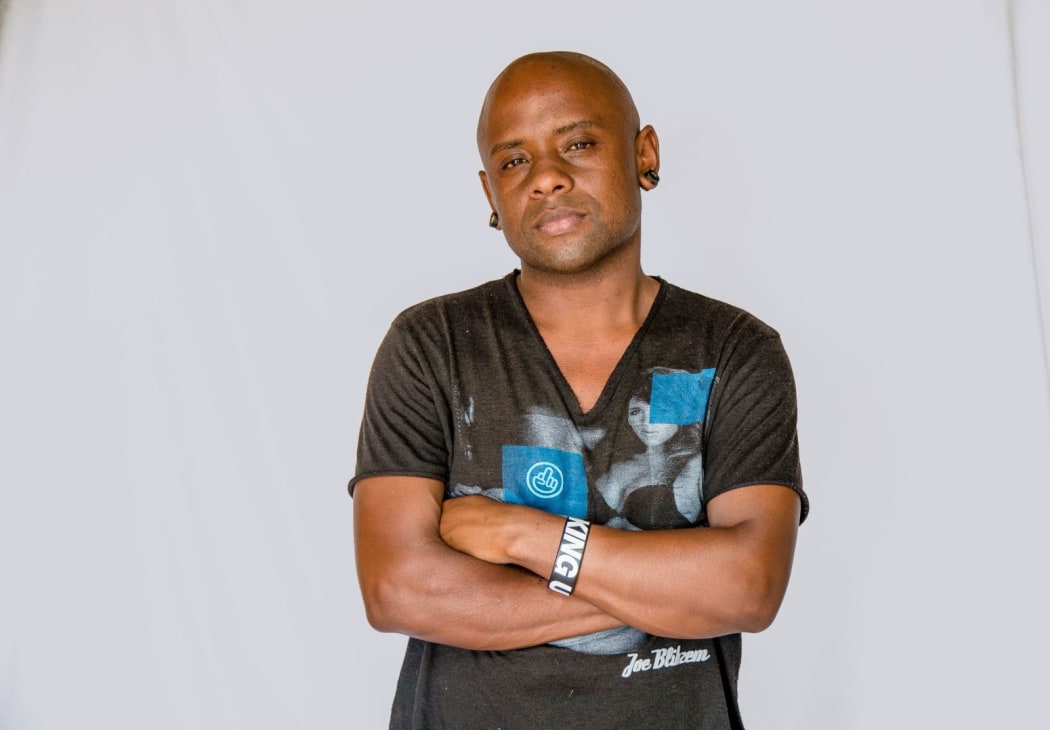 While exhibiting established artists, such as El Anatsui and Abdoulaye Konaté, Duende Art Projects also has a strong ambition to promote emerging artists from the African continent. In our inaugural exhibition "Threads", the gallery was proud to show five new works by the South-African artist Sizwe Sama (b.1986), a self-taught visual artist from Kwa-Zulu Natal. Stimulated by his activism in the LGBTQ+ community, he started working as a full-time artist only a few years ago. As a gay man living in South Africa, Sama wants to inspire the queer community by celebrating them through his beautiful works of art. In just a short period of time, Sama has been able to develop a unique visual language and positioned himself as one of the most promising South African artists working with textiles.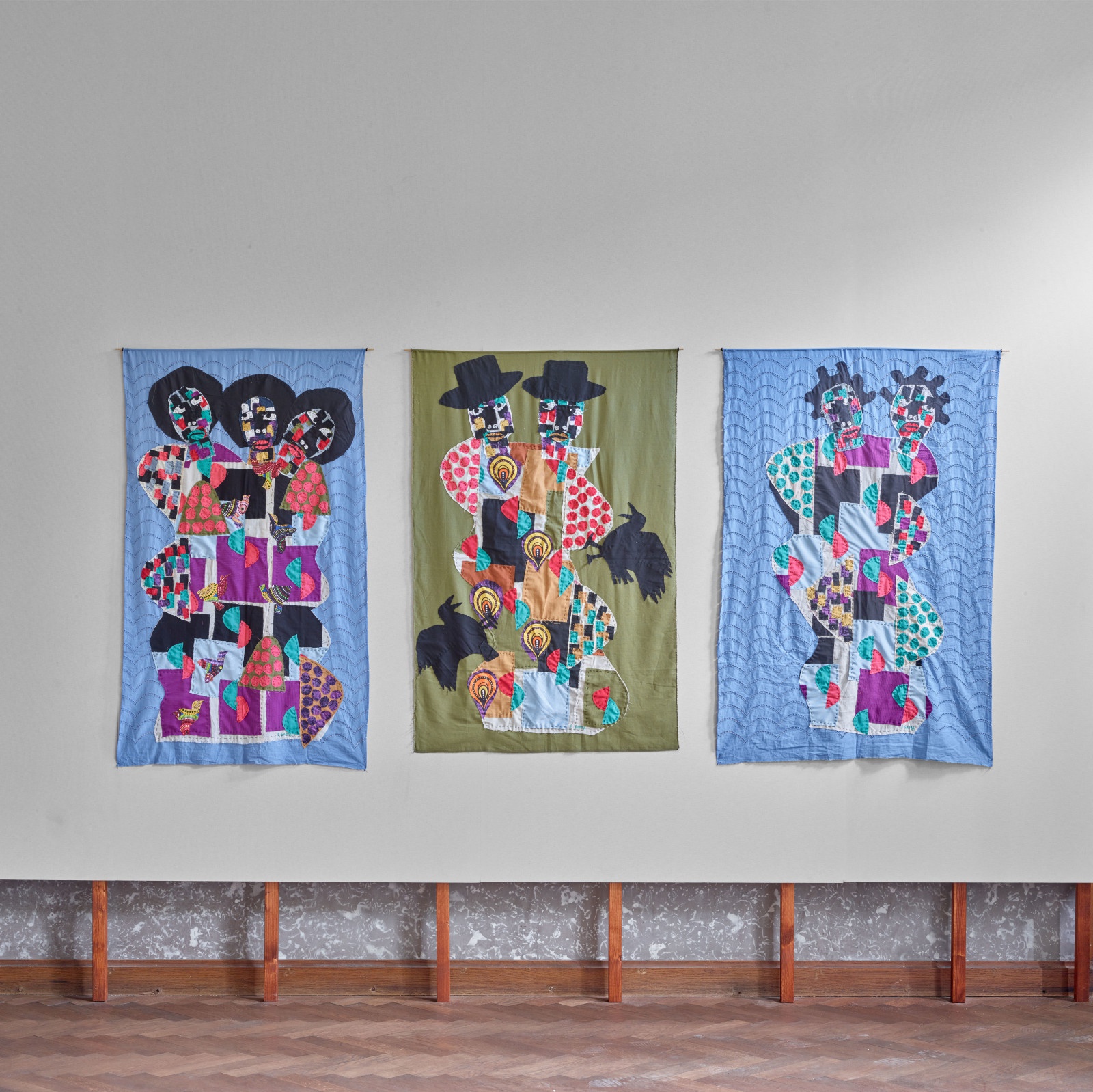 Sizwe Sama - "Unity" - "Doubt" - "My Forever" (2021). Handstitched patchwork with cotton and cotton blends.
"My work celebrates and honors the LGBTQ+ community and single mothers. The colorfulness and layering calls to mind confetti, which signifies celebration and festivity at PRIDE marches and events. Non binary groups and women are subjected to wide lack of acceptance, ridicule and violence. I reflect on this in the intricate patterns of my artworks. Hand stitching is a crucial part of my practice, as it reminds me of my mother doing mending for my brother and I growing up. She worked as a seamstress most of her life. She's been taking care of my brother and I by using her hands to stitch. The way I look at it is, women do a good job stitching society together."

- Sizwe Sama (2021)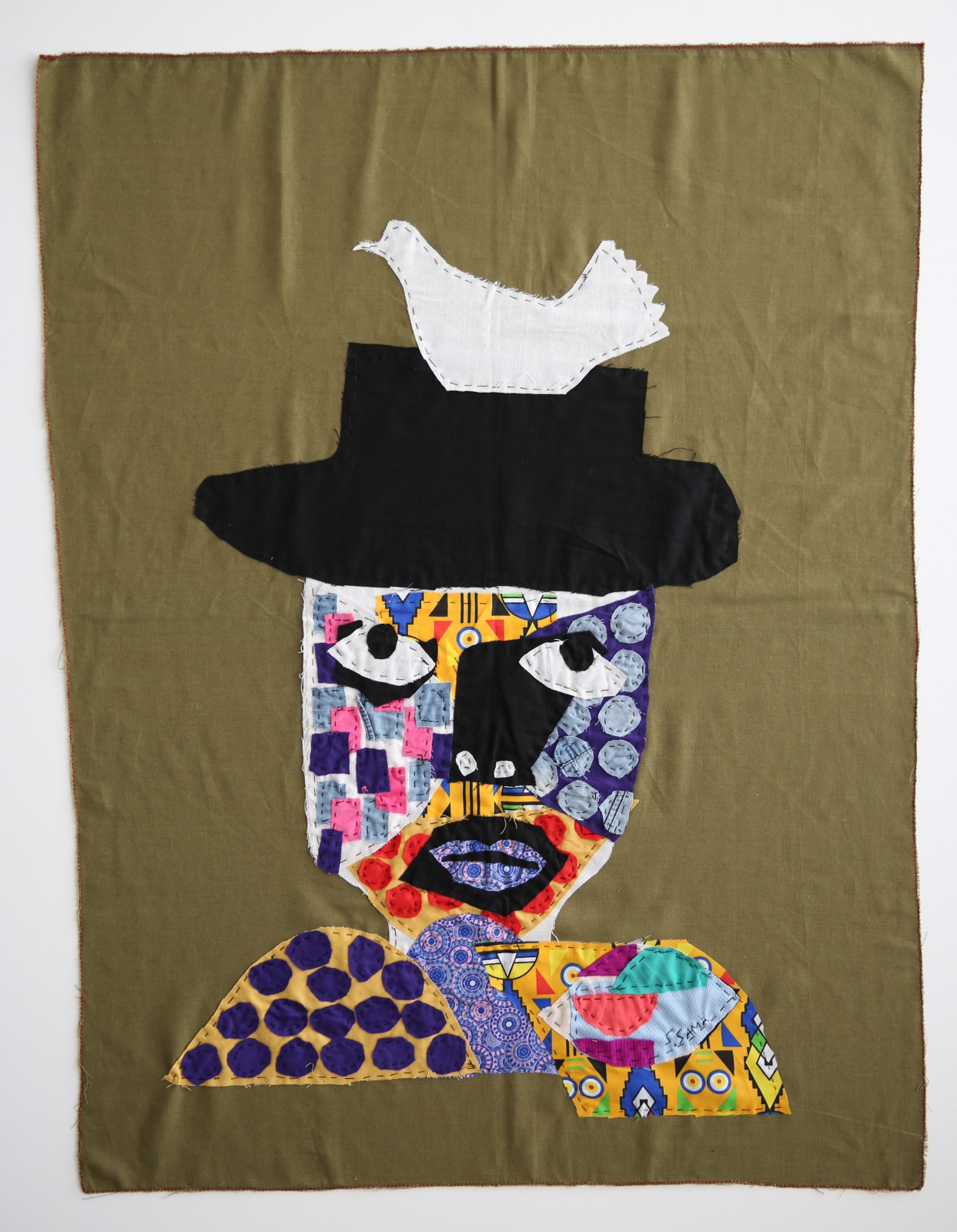 Sizwe Sama - "Keep a cool head" (2021). Handstiched patchwork with cotton, denim, shweshwe. 87 x 69 cm.
Sama started working in different ways, with painting and drawing, but lacked the funds to buy art supplies. So, he asked his materials from friends and family. They handed him their old clothes, and that's how he discovered a new way of expression. He cuts and re-uses the clothes for his works, and now paints with fragments of fabric. Sama does not use a sewing machine as he enjoys and honours the process of hand stitching. He has created his own language of layered patterns filled with meaning. A signature of his work is the consistent D-shaped pattern, refering to the profile of a pregnant woman's stomach – single mothers being an important subject within his work. With colorfulness and joy he expresses gay pride. With the complex layering of patterns, he wants to keep the viewers' eye busy.

The above work, "Keep a cool head", is a self-portrait by Sama, addressing his struggle's with anxiety and depression, and his wish to choose peace (the white dove) over drama (the black hat). Below, "The rainbow tribe", is inspired by the queer community, with the birds symbolising happiness, Sama's wish for his "rainbow tribe". Sizwe hopes that his art will shift paradigms and inspire change in South Africa, which has a long way to go normalizing and accepting the non-binary.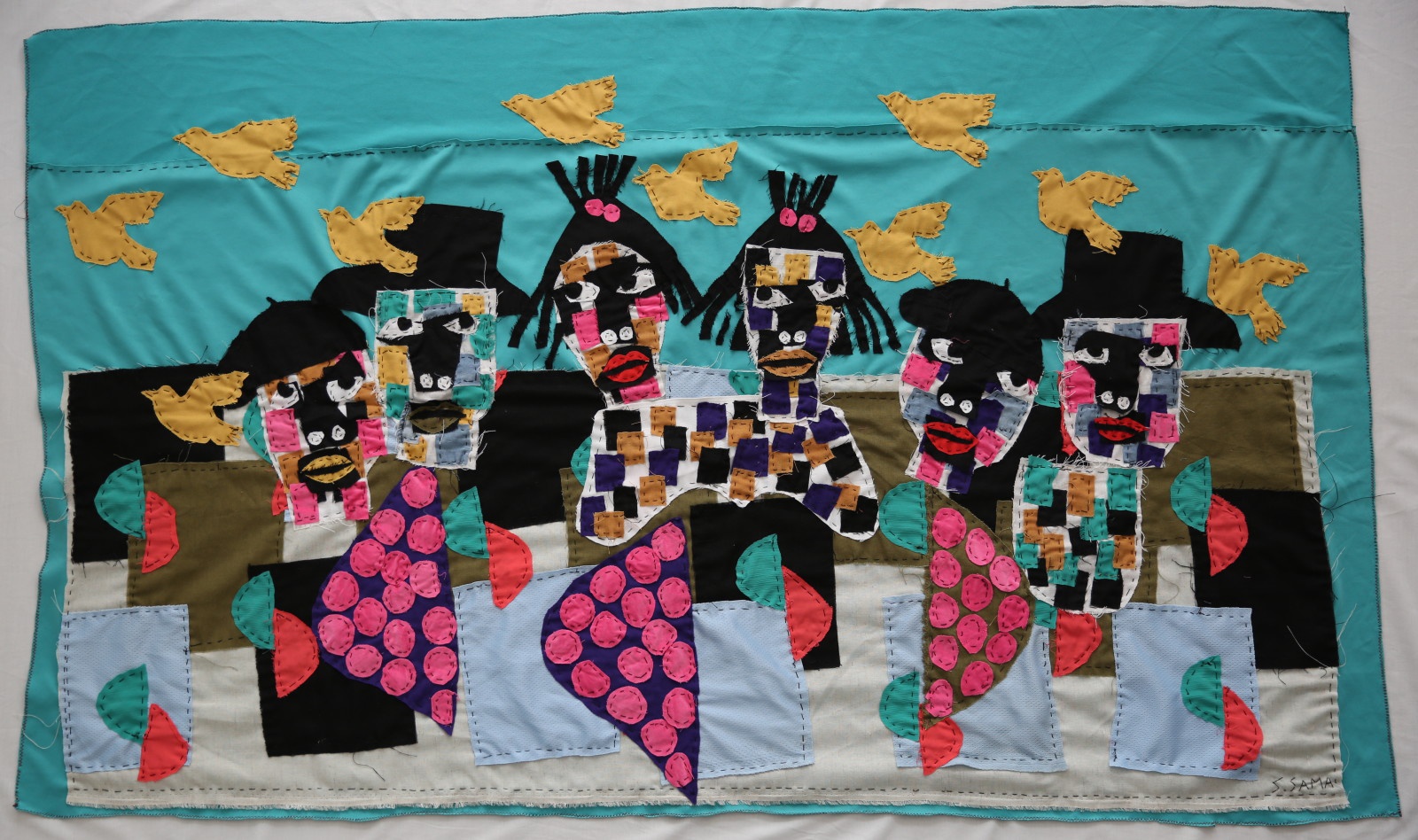 Sizwe Sama - "The Rainbow Tribe" Patchwork with cotton and cotton-blends. 132 x 78 cm.