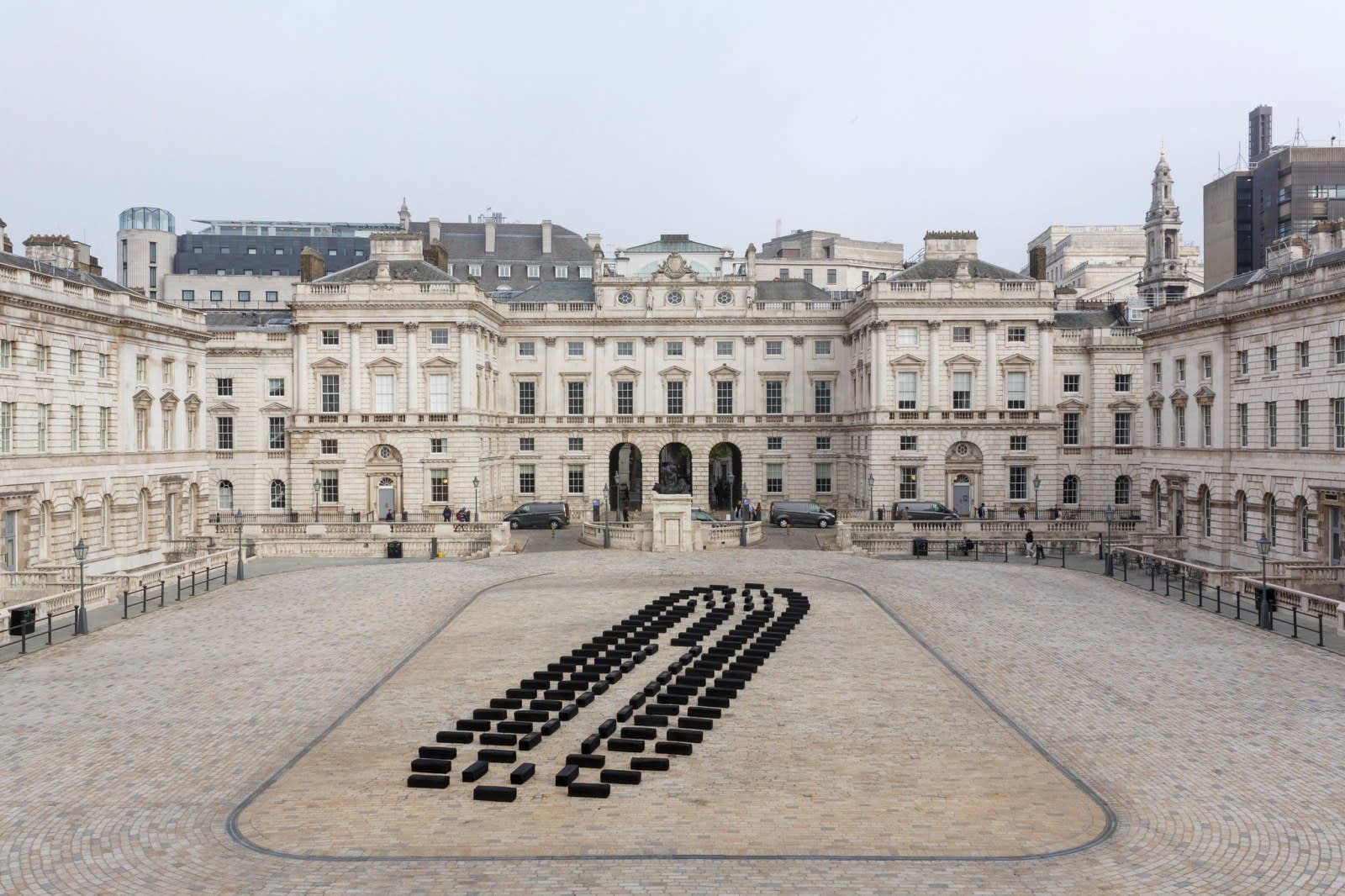 O Barco, The Boat by Grada Kilomba at Somerset House, London, 2022. Photo by Tim Bowditch. Image courtesy of 1-54
Earlier this month I was in London to visit the 1-54 art fair (1 continent, 54 countries – if you were wondering about the name) at the Somerset House. It was a glorious edition again, with 50 galleries showing more than 150 artists. To celebrate the tenth birthday of the fair, which started in London in 2013 and now has satellite events in New York, Marrakech and Paris, Dr. Tom Flynn wrote a beautiful and most informative tribute. You can find it on the website here – recommended reading. The essay offers some historical perspective on the market for contemporary African Art, the history of the fair and founder Touria El Glaoui's desire to support African artists and to promote contemporary art from the continent through it.

You can explore most of the artworks that were on view until the end of the month thanks to Artsy here. Below my 10 personal highlights.
Ibrahim El-Salahi
A leader of the Sudanese Khartoum School and the first African artist to have a retrospective at the Tate Modern in London, Ibrahim El Salahi (b. 1930) was shown by Vigo Gallery. Besides two prints and the beautiful sculpture Meditation Tree, the work that truly took my breath away was a small work on board supposedly a self-portrait by the artist. It was one of the last paintings the gallery had in stock, most of them already had sold to institutions worldwide before. Hands down my favorite work at 1-54.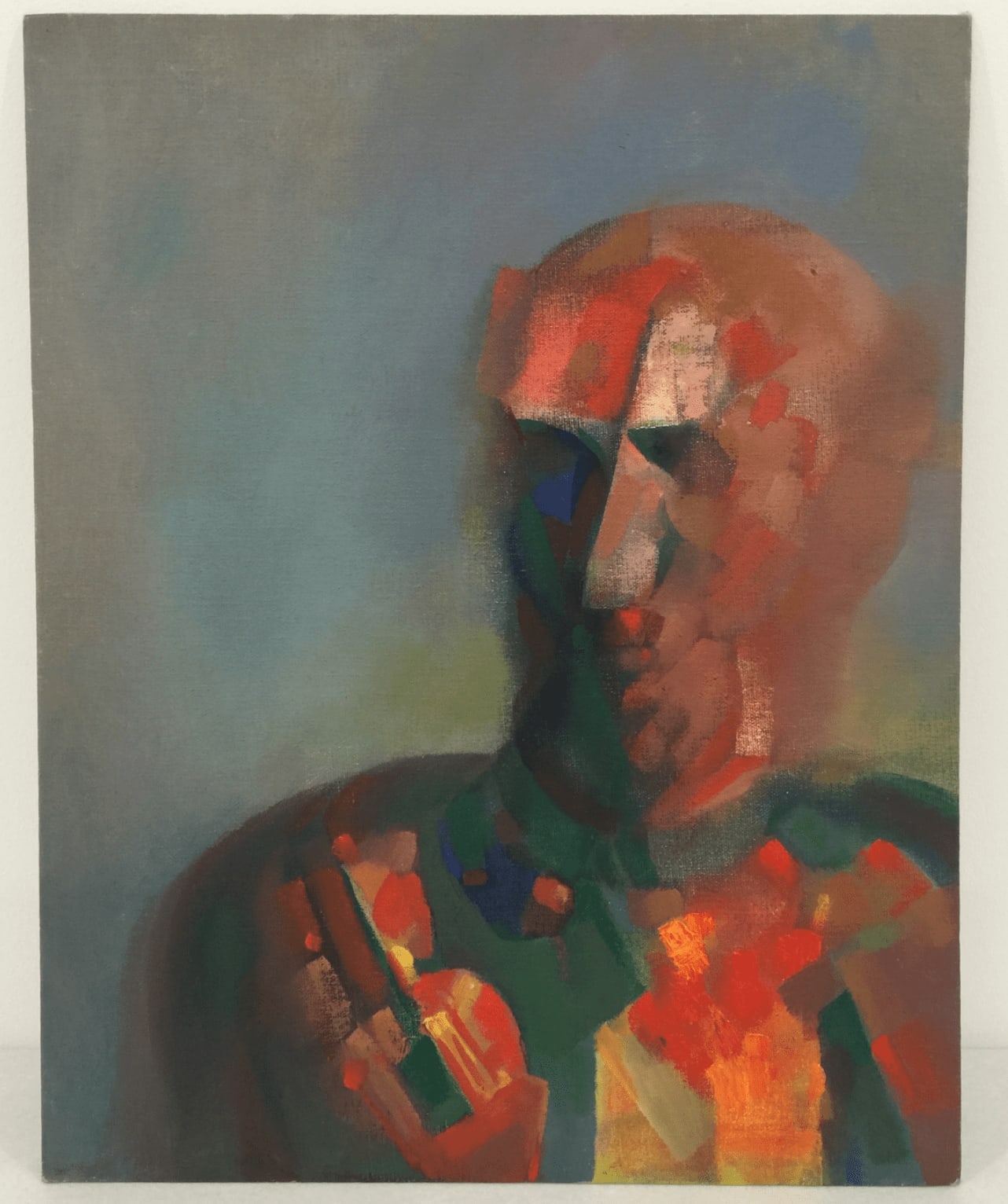 Ibrahim El-Salahi - Untitled, 2002 - Oil on canvas board - 51 × 40.5 cm
Arébénor Bassene
The main reason to visit 1-54 is the chance to discover new artists. One of my personal discoveries was Arébénor Bassene (b. 1974). For their first participation to the fair, Dakar Gallery Selebe Yoon was showing two large works and several works from the Soltice series. I loved the combination of materials (such as paper, Arabic gum, henna, wood residues and natural pigments) applied on an unstretched canvas subjected to the batik technique and soaked in wax and color baths. The figure of the woman as well as the abstract tree in the background created a fascinating ensemble that only stimulated a wish to see more of this artist. I still think a lot about this work.
Arébénor Bassene - Musoo (woman), 2022. Acrylic, natural pigment, ink and graphite on unstretched canvas. 207 × 163 cm
Admire Kamudzengerere
During my last exhibition "Unsettled", I was proud to show two works by Admire Kamudzengerere (b. 1981) in collaboration with Catinca Tabacaru gallery. At 1-54, Galleria Anna Marra from Rome, showed a beautiful monotype from the same series. The portrait might have been less easy to read, the colors took this work to another level. It was no surprise it was quickly sold. The gallery also showed four paintings on newspaper by the artist.
Admire Kamudzengerere Screen, 2020. Monotype and silkscreen on paper. 100 × 70 cm
Tewodros Hagos
Kristin Hjellegjerde Gallery was present at 1-54 with a solo presentation of new works by Tewodros Hagos (b. 1974). She showed 17 new portraits by the talented artist originally from Ethiopia but now living close to Antwerp – you can explore them here. The above portrait was my personal favorite: that intense gaze, those colors... You might recall the artist, as during Unsettled we showed five works from his series "The Desperate Journey" – which were a bit more unsettling than this new beautiful body of works ;)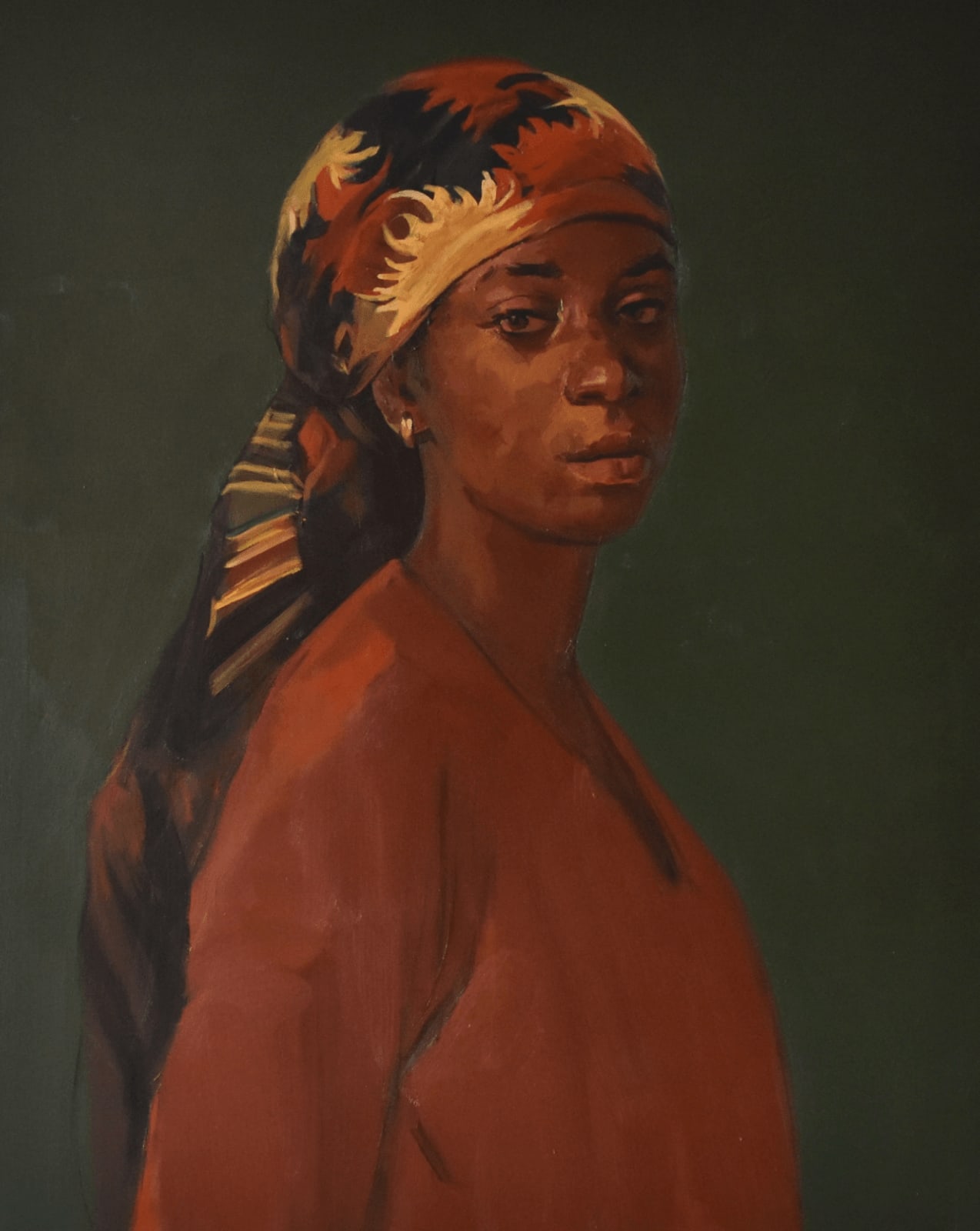 Tewodros Hagos Woman (17), 2022. Acrylic on canvas. 100 × 80 cm
Turiya Magadlela
The Johannesburg-based gallery Kalashnikovv was showing two new works by Turiya Magadlela (b. 1978). The artist has chosen panty hoses as her medium and in recent years has been making these beautiful and vibrant celebrations of Black womanhood with this material. While they might appear simple at first glance, they do go beyond the medium, the artist simultaneously suggesting notions of eroticization and violence.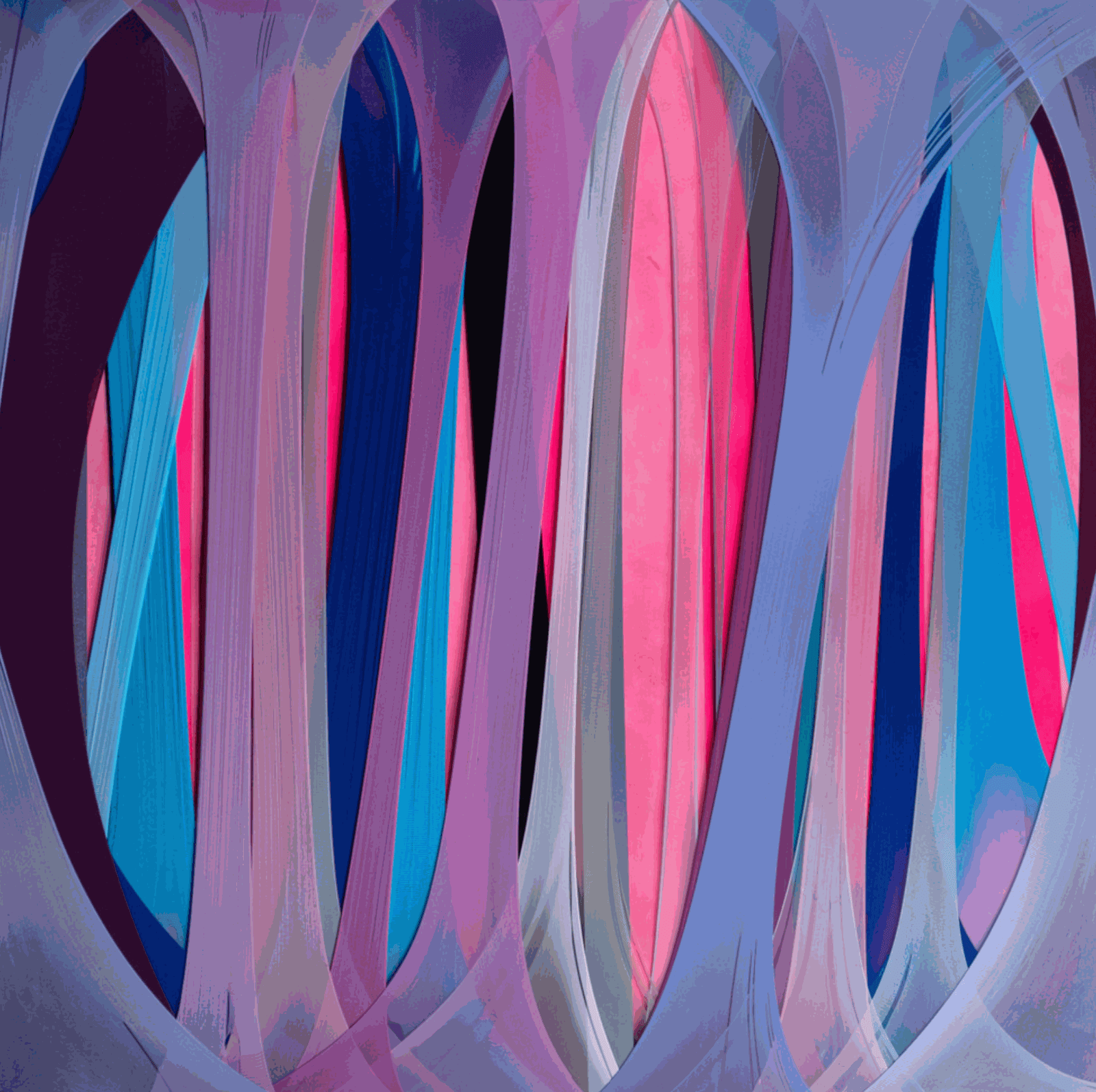 Turiya Magadlela - Dirurubela, Angazi thina sicwila in the blissful tsunami of ignorance III, 2022. Nylon panty hose on canvas. 120 × 120 cm
Barthélémy Toguo
While the gallery especially focuses on Chinese artists, the Paris-based HdM Gallery was present at 1-54 with a large group of the typical watercolor paintings by the Cameroon artist Barthélémy Toguo (b. 1967). Toguo often shows 'displayed beings' in his work, and the one above particularly struck me – perhaps as it reminded me of Diogenes, the ancient Greek philosopher who lived in a wine barrel. While often monochromatic, I did love the combination of red, yellow and blue in this painting.
Barthélémy Toguo - Human Nature 8, 2019. Acrylic and watercolour on canvas. 56 × 41 cm
Joël Andrianomearisoa
Primo Marella Gallery was showing several works by Joël Andrianomearisoa (b. 1977). While two bigger works drew all attention to them, it was especially a smaller textile work discretely hanging above the entrance door that had a lot of wall power. In London it did look more golden than on the above image. I'm not sure what the work is about, and didn't have time to ask – but this ambiguity is also somewhat central to the Malagasy artist's oeuvre. If you would be in the mood for a trip to Marrakesh, Andrianomearisoa currently has a solo show at the MACAAL museum called "OUR LAND JUST LIKE A DREAM", running until 16 July 2023 – from what I've heard it is very good.
Joël Andrianomearisoa, Volamena, 2022, Textile 50 × 40 cm
Sola Olulode
My favorite 'booth' at 1-54 was the one from Berntson Bhattacharjee Gallery with a solo presentation of British-Nigerian artist Sola Olulode (b. 1996). Olulode created delicate portrayals of queer love through a series of figurative works, with centrally positioned in the room a blue bed with an equally intimate portrait painted in white on the blue sheets. Influenced by Yoruba adire textiles, Olulode rendered intimate scenes of romance and Black womanhood in her 'bed series'. It definitely struck a chord with the romantic souls among the visitors and her works had no problem finding lovers willing to buy them. Kudos to the artist and Berntson Bhattacharjee Gallery for the wonderful installation.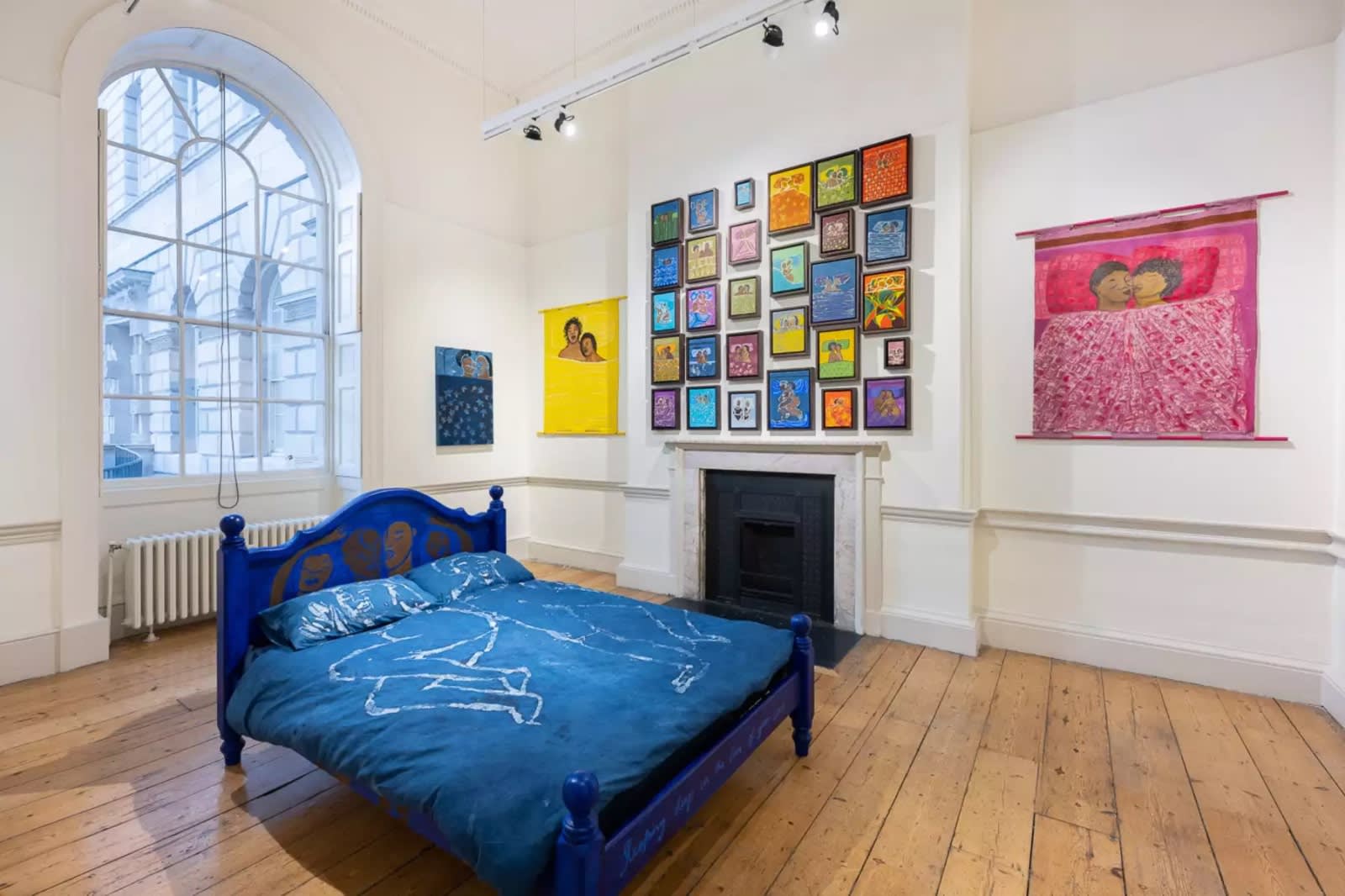 Works from Sola Olulode's 'Bed Series', as shown by Berntson Bhattacharjee.
Ange Dakouo
As during the previous Paris edition of 1-54 LouiSimone Guirandou Gallery presented several new works by Ange Dakouo (b. 1990). For this series, the young artist from Mali was inspired by the costumes worn by traditional hunters, including similar rectangular protective amulets. The works are made of an accumulation of these magical packages, grigri, reconfigured in a new context addressing the re-foundation of Africa and the advent of a new and improved society. His works cleverly mix the traditional and the contemporary, while at the same time remembering that art shouldn't be limited to paint on canvas. A pupil of Abdoulaye Konaté at the Balla Fasséké Kouyaté Conservatory of Multimedia Arts and Crafts in Bamako, Ange Dakouo succeeds in suppressing himself, while he keeps pushing the possibilities of this new medium.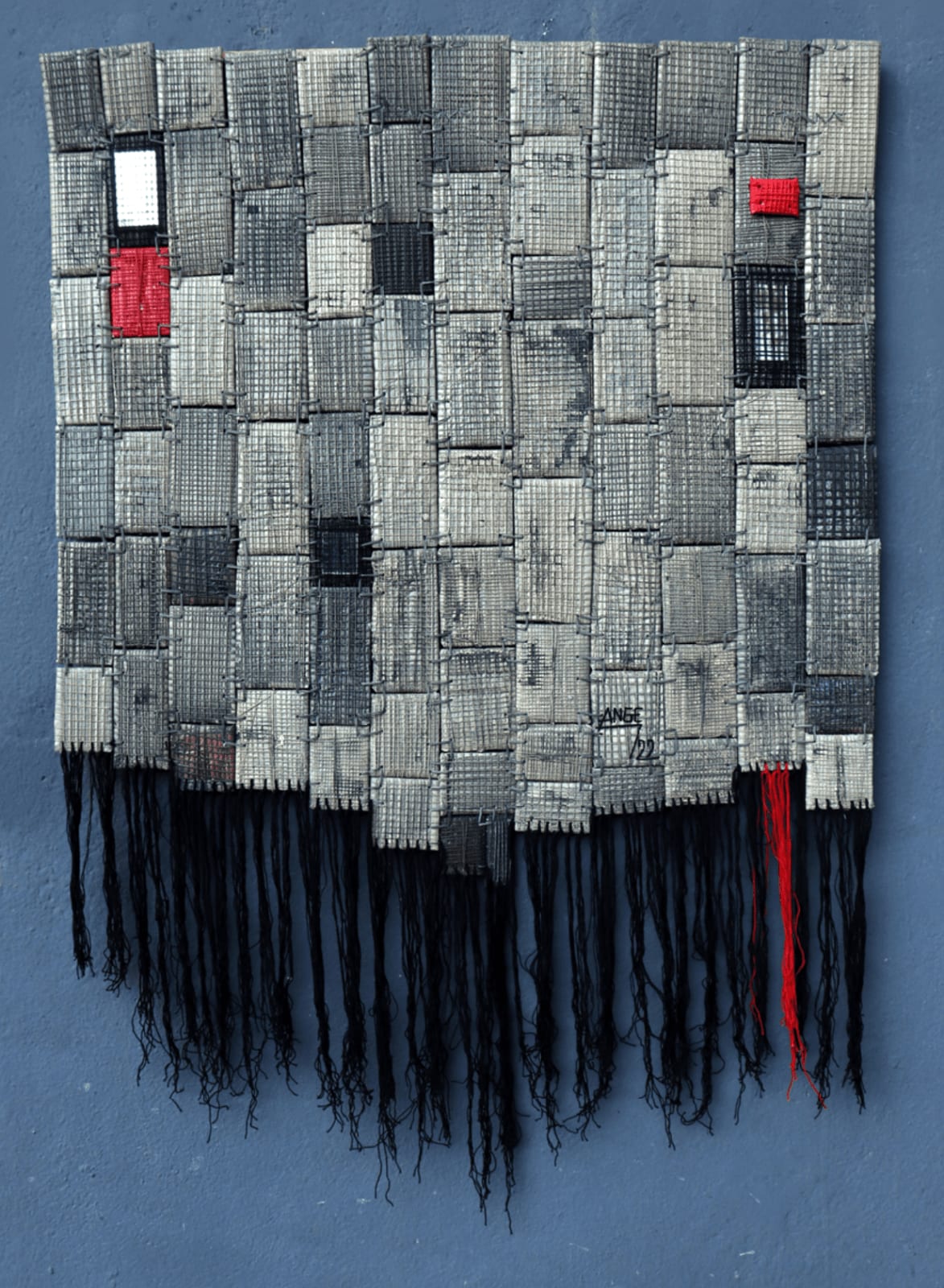 Ange Dakouo Legacy 5 - Mirror, 2022. Mixed media (cardboard, mirror fragments, newspapers, cotton thread and acrylic). 100 × 80 cm
Odette Graskie
And last but not least, yours truly became an artwork as well. I was happy to have my portrait drawn by the South African artist Odette Graskie (b. 1993). Berman Contemporary was showing a series of her collages and my portrait (one of 80 she would make during the fair) will eventually be cut up to become part of a new work of art.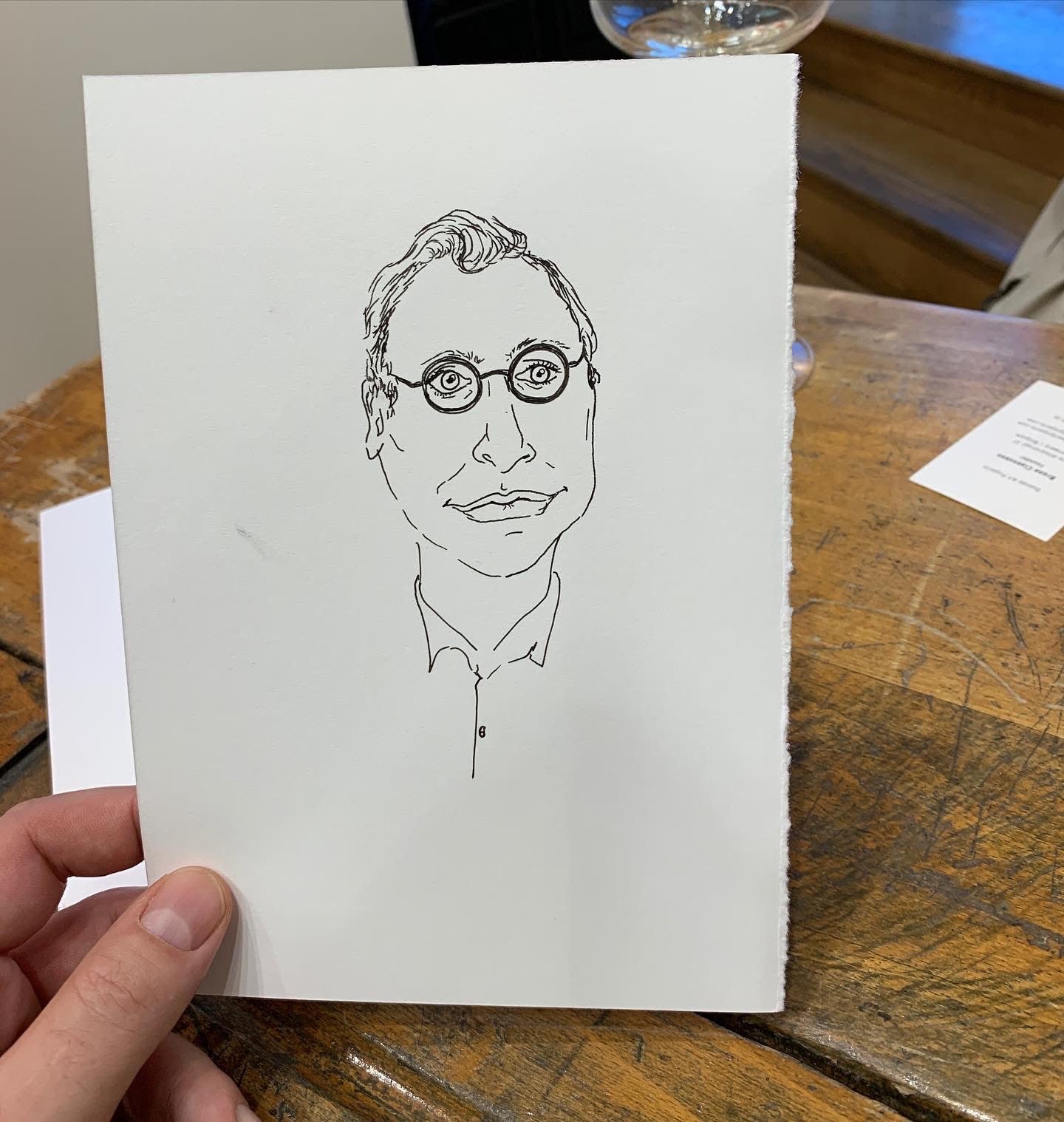 I could have easily listed another ten works, but these came first to mind. Obviously there was much more to see and this selection remains most subjective. Artnet listed five other works and included some interesting market intelligence in their report – read it here. Artnews also listed 7 booths to see. Anyhow, I hope it inspires you to visit the next edition of 1-54 and discover yourself contemporary African Art is worth your time and interest!